February 2011 / Février 2011
Plants for Difficult Situations – A Talk by Christian Mistre
Des plantes pour des situations difficiles – Un discours de Christian Mistre
A brilliantly sunny February day found a healthy crowd of members gathered at Le Jardin de la Gare, hungry for advice on dealing with the problem areas we all have in our gardens.
Une journée de février brillamment ensoleillé a trouvé une foule de membres réunis au Jardin de la Gare, avides de conseils sur la façon de traiter les problèmes que nous avons tous dans nos jardins.
Christian Mistre of Pépinière La Soldanelle was an ideal choice of speaker on this ticklish topic, since he specialises in plants which will tolerate the fairly extreme conditions in his nursery, with 40°C summer temperatures falling to -8 or even -12°C in winter, not to mention the Mistral.
Christian Mistre de la Pépinière La Soldanelle était un choix idéal d'intervenant sur ce sujet difficile, puisqu'il se spécialise dans les plantes qui toléreront les conditions assez extrêmes de sa pépinière, avec des températures estivales de 40°C tombant à -8 voire -12°C en l'hiver, sans oublier le mistral.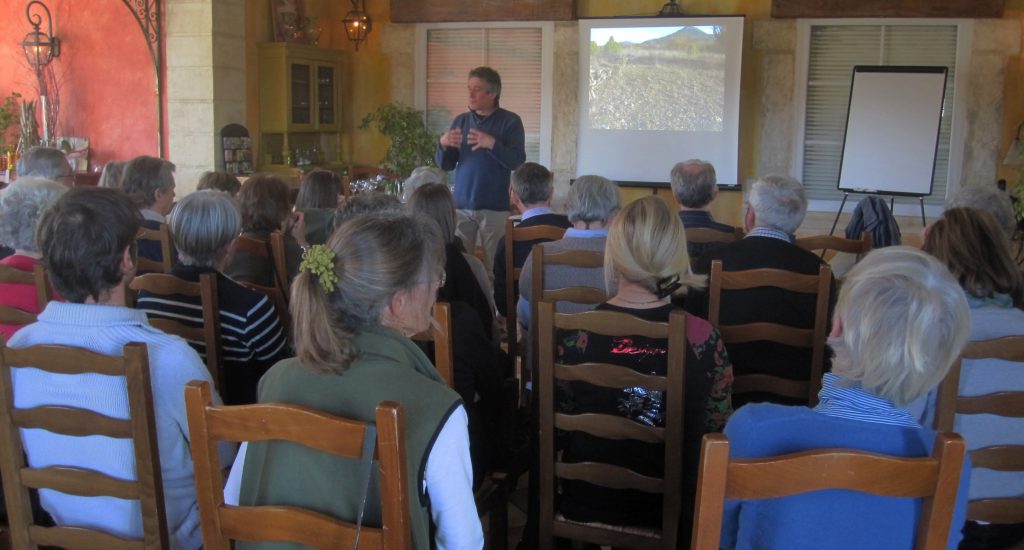 Christian's approach was to examine different difficult situations experienced by members, on the basis that understanding them would enable us to deal better with them. He explained that a plant has no option if it finds itself in a challenging spot – it can't move (except by sending out seeds), and so must either adapt or perish. A plant's ability to adapt is affected by numerous criteria, extremes of climate, soil types and so on, and Christian used photographs which many of us had sent to him to illustrate his themes.
L'approche de Christian était d'examiner différentes situations difficiles vécues par les membres, en partant du principe que leur compréhension nous permettrait de mieux les gérer. Il a expliqué qu'une plante n'a pas d'option si elle se trouve dans un endroit difficile – elle ne peut pas bouger (sauf en envoyant des graines) et doit donc s'adapter ou périr. La capacité d'adaptation d'une plante est affectée par de nombreux critères, des climats extrêmes, des types de sols, etc., et Christian a utilisé des photographies que beaucoup d'entre nous lui avaient envoyées pour illustrer ses thèmes.