Our Recommendations / Nos recommendations
Designers / Paysagistes
06 Alpes-Maritimes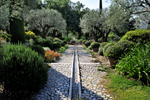 Stepped ramp with rill, olive trees and clipped greenery
Jean Mus
16, Avenue Frédéric Mistral
06530 Cabris
04 93 60 54 50
Depuis plusieurs décennies, Jean Mus imagine des parcs et des jardins au bord du bassin méditerranéen et à travers le monde.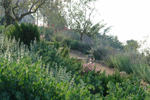 A dry garden on a steep hillside
in Tourrettes sur Loup
James Basson
Mas de la Fée
06620 Le Bar sur Loup
04 93 42 96 23
Creates sustainable landscapes sympathetic to the natural environment using plants that are compatible with the native climate and soil and requiring little, if any, irrigation.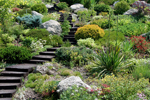 Roland van Biervliet
15, route de Cannes
06650 Opio
04 93 77 25 02
Conception de plans, création de jardins paysagers, aménagement de terrasses et balcons, arrosage automatique, eclairage de jardin, maçonnerie de jardin, petit terrassement, murs, enrochements, rocailles, entretien du jardin.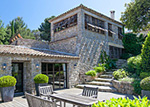 Terrace in the hills behind Biot
route de Roquefort les Pins
06650 Opio
04 93 12 23 21
Landscape design and project management. Technical studies including planting, lighting and irrigation plans. Garden centre with exhibition gardens. See: MGF visit in October 2016.
11 Aude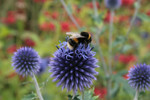 Echinops ritro 'Veitch's Blue'
Kate Dumbleton and Imogen Checketts (MGF member)
19bis avenue de la Montagne Noire
11160 Caunes-Minervois
07 80 43 32 62
Display garden, nursery and planting design service.
See : Garden Diary – Le Jardin Champêtre
26 Drôme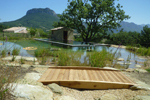 Piscine naturelle
Jean-Baptiste Pasquet
Le Village
26160 Manas
04 75 00 46 97
Piscines naturelles, rocailles et jardins secs, espaces naturelles.
30 Gard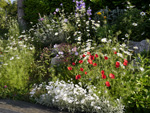 Nina Guichard et Romain Pfister (MGF member)
Mine de Talents, 131 impasse des Palmiers
30100 Alès
07 81 33 36 41
Association entre une biologiste et un paysagiste passionné de botanique. Conception et réalisation de petits espaces extérieurs uniques (jusqu'à 300m²). Conseils personnalisés autour du jardin: plantation, entretien et taille, sélection de végétaux adaptés, réimplantation de la biodiversité. Fluent in English.
Julia Fogg (MGF member)
8 Place des Platanes
30330 St Laurent-la-Vernède
 0613667439
We create individual and inspirational landscapes – private and public – incorporating indigenous materials, both hard and soft. We love and appreciate plants.
See: Garden diaries – Le jardin qui chante
34 Hérault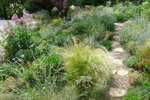 Allée du jardin avec massifvivaces et graminées
Instant de Jardin

Benoît Moulin
297, chemin des Tribes
34570 Vailhauquès
07 70 73 74 59
Jardinier paysagiste. Conception ou réaménagement d'espaces paysagers. Projets respectueux de l'environnement.
83 Var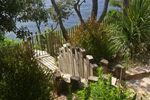 Bay of Cristaou
Bormes-les-Mimosas
Jean-Laurent Félizia
Chemin Val des Rêves d'Or, Saint Clair
83980 le Lavandou
04 94 71 73 43
Conception, realisation et entretien de jardins. Spécialistes des espèces botaniques de la région méditerranéene.
94 Val-de-Marne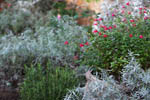 Mediterranean plants
in a garden near Paris
Gabriel Rochard
51 avenue Carnot
94230 Cachan
06 63 29 70 80
Paysagiste diplômé de l'ENS du Paysage de Versailles. Fluent English. Conçoit et réalise des jardins de toutes tailles depuis le diagnostic avant-projet jusqu'au plan d'entretien. Basé à Paris et intervient en France entière. Passion pour la flore méditerranéenne (jardin expérimental en Péloponnèse).
Outside of France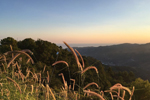 Vue sur Monaco
Jardin au coucher du soleil
Simone Ottonello, Architetto e Paesaggista
via Raimondo 13
17024 Finale Ligure, (SV) Italy
0039 338 4495626
Pour nous, les jardins et les terrasses créés sont la continuation des maisons, sont la continuation de l'environnement, sont l'accomplissement des souhaits.des clients.