Forthcoming Events / Programme d'évènements
Activities are open to MGF members, members of partner associations and, where places are available, guests. Where the number of places for a particular event is limited, priority will be given to MGF members.
Les activités sont ouvertes à tout membre de la MGF, aux membres des associations partenaires et, selon disponibilité, aux invités. Dans le cas ou la disponibilité des places pour une activité est limitée, les membres de la MGF auront priorité.
FRANCE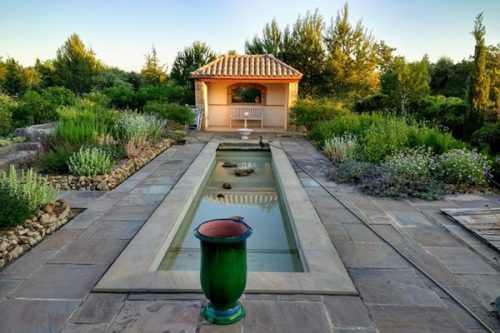 26 May 2022 – 27 May 2022 / 26 mai 2022 – 27 mai 2022
Narbonne, Tourreilles and Fontfroide
A two-day trip to visit gardens in Aude
Deux jours de visites de jardins dans l'Aude
On Thursday morning we will visit gardens laid out by James Basson's team at
Château Capitoul, a hotel complex located near Narbonne. After a picnic in the garden of MGF member Roseanne McNamee, we will visit the garden of another member, Daniel Fiala, in Tourreilles, near Limoux. Dinner and hotel on Thursday evening, are your choice.
On Friday, 2 guided tours are organized. In the morning the Gallo-Roman Garden Amphoralis in Sallèles d'Aude and in the afternoon, the gardens of the Abbey of Fontfroide. Lunch will be in the abbey restaurant.
Photo: Rosanne McNamee's garden
Jeudi matin nous visiterons les jardins aménagés par l'équipe de James Basson pour le Château Capitoul, complexe hôtelier situé près de Narbonne. Après un pique-nique dans le jardin de Roseanne McNamee, membre MGF, nous visiterons le jardin d'un autre membre, celui de Daniel Fiala. Le jeudi soir, dîner et hôtel sont laissés à votre libre choix. Vendredi, 2 visites guidées sont organisées, le matin celle du jardin gallo-romain Amphoralis à Sallèles d'Aude et l'après-midi, celle de l'Abbaye de Fontfroide. Un repas est prévu le midi dans le restaurant de l'abbaye.
Photo: Le jardin de Roseanne McNamee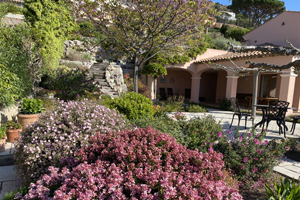 Thursday, 2 June 2022 / Jeudi 02 juin 2022
83120 Sainte Maxime
A picnic in Gill Clarke's garden with a talk by David Richter
Un pique-nique dans le jardin de Gill Clarke avec un exposé de David Richter.
Gill writes: My garden is small (1,000 sq.m.) on a steep south facing site. I have invited David Richter to come to Ste-Maxime to give us a talk about Le Jardin botanique de la flore des Alpes-Maritimes that he and his wife are planning to create in Gréolières. They have been working on this project for the past two years. 
Photo: Gill's garden
Gill a écrit: Mon jardin est petit (1 000 m²) sur un terrain pentu exposé au sud. J'ai invité David Richter à venir à Ste-Maxime pour nous parler du Jardin botanique de la flore des Alpes-Maritimes que lui et son épouse projettent de créer à Gréolières. Ils travaillent sur ce projet depuis deux ans. 
Photo: Jardin de Gill 
INTERNATIONAL