Forthcoming Events / Programme d'évènements
Activities are open to MGF members, members of partner associations and, where places are available, guests. Where the number of places for a particular event is limited, priority will be given to MGF members.
CORONAVIRUS: With the current health crisis and government regulations, we have had no option but to postpone some activities we had planned for 2020 and 2021. As information on new dates becomes available, it will appear in the newsletter and on this site.
Les activités sont ouvertes à tout membre de la MGF, aux membres des associations partenaires et, selon disponibilité, aux invités. Dans le cas ou la disponibilité des places pour une activité est limitée, les membres de la MGF auront priorité.
COVID-19: Du fait de l'actuelle crise sanitaire et des consignes gouvernementales, nous n'avons pas d'autre solution que de reporter certaines activités planifiées pour 2020 et 2021. Dès que les nouvelles dates seront fixées, elles vous seront communiquées dans le bulletin d'information et sur ce site.
FRANCE
Wednesday, 19 May 2021 / Mercredi 19 mai 2021
via Zoom
MGF Annual General Meeting 2021
MGF Assemblée Générale 2021
We had hoped to be able to hold this event at the UNESCO World Heritage Site, Pont du Gard. However, due to the current health crisis the committee decided to postpone the Pont du Gard event until 2022.
 Instead, we held a virtual AGM via Zoom. 
Nous avions espéré pouvoir organiser cet événement sur le site du patrimoine mondial de l'UNESCO, le Pont du Gard. Cependant, du fait de l'actuelle crise sanitaire le comité a décidé de reporter l'événement du Pont-du-Gard à 2022.
A la place, il y avait un AG virtuelle via Zoom.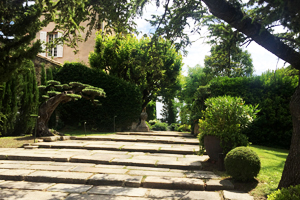 Wednesday, 15 September 2021 / Mercredi 15 septembre 2021
Roaix, near Vaison-la-Romaine, Vaucluse
A visit to the gardens of Chateau Roaix and to Pépinières Baud
Une visite aux jardins de Chateau Roaix et Pépinières Baud
In the morning we will meet in the old village of Roaix, known for its Côtes du Rhône Villages wines, for a guided visit to the gardens of its privately owned chateau. The garden has evolved over the last 30 years, first under the guidance of Alain Idoux, a disciple of Nicole de Vesian, then extended and developed by the owners.
After the visit we'll drive to Pierre Baud's nursery near Vaison-la-Romaine for picnic lunch followed by a talk on the cultivation of fig trees and the opportunity to taste around 30 different varieties of fruit.
Le matin, rendez-vous dans le vieux village de Roaix, connu pour ses vins des Côtes du Rhône Villages, pour une visite guidée des jardins de son château privé. Le jardin a évolué au cours des 30 dernières années, d'abord sous la direction d'Alain Idoux, élève de Nicole de Vesian, puis agrandi et aménagé par les propriétaires.
Après la visite, nous nous dirigerons vers la pépinière de Pierre Baud près de Vaison-la-Romaine pour un pique-nique suivi d'une conférence sur la culture des figuiers et la possibilité de déguster une trentaine de variétés de fruits différentes.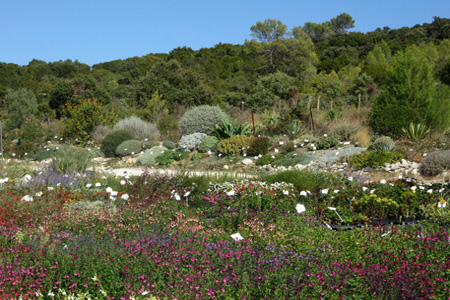 Thursday, 28 October 2021 / Jeudi 28 octobre 2021
Souvignargues, Gard
A visit to Pépinières Quissac
Une visite aux Pépinières Quissac
Miriam Quissac has invited us to visit the nursery in order to learn about their pomegranate collection and to taste some of the different varieties, which will be ripe at this time of year. Edited 2021/08/15
Miriam Quissac nous a invités à visiter la pépinière afin de découvrir leur collection de grenadiers et de déguster quelques-unes des différentes variétés, qui seront mûres à cette époque de l'année.
Thursday, 28 April 2022 / Jeudi 28 avril 2022
Beaumes-de-Venise / Le Barroux, Vaucluse
A walk and a visit to Tony Stone's garden, La Jeg
Randonnée et visite à La Jeg, le jardin de Tony Stone
This event has been postponed to 2022.
The date is provisional.
Cet évènement est reporté à 2022.
La date est provisoire.
Saturday, 14 May 2022 / Samedi 14 mai 2022
Grignan / Nyons, Drôme
A guided rose walk and a visit to an ecological fair
Une balade guidée pour découvrir les roses et visite d'une foire écologique
This event has been postponed to mid-May 2022.
The date is provisional.
Cet évènement est reporté à mi-mai 2022.
La date est provisoire.
INTERNATIONAL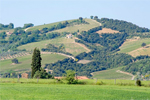 2 May 2022 – 9 May 2022 / 02 mai 2022 – 09 mai 2022
The Maremma, ITALY
Wild flora and scenery of Southern Tuscany
This walking tour, organised by Mediterranean Plants and Gardens and led by Professor Goffredo Filibeck of the University of Tuscia, is for those who enjoy hiking. The habitats of wild flora will include macchia, woodland, beaches, grassland, canyons and hilltop villages. The first five nights will be spent in Porto Santo Stefano, Monte Argentario, and the last two nights inland in the picturesque ancient village of Sovana, an area of volcanic tuff rock.
Dates are provisional.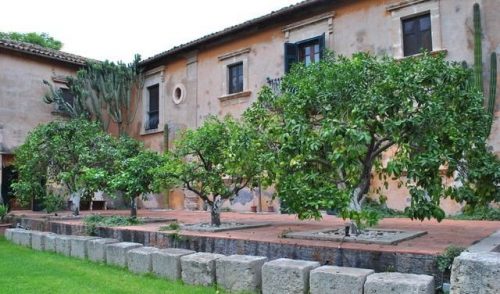 11 May 2022 – 17 May 2022 / 11 mai 2022 – 17 mai 2022
Eastern Sicily, ITALY
​Visits to gardens in and around Taormina, Mount Etna, Catania and Siracusa, together with wildflower walks, visits to nurseries, archaeological and historic sites; staying in Catania and Siracusa. Our trip will be led by local horticulturist, Sergio Cumitini.
Dates are provisional.