Seed Collection / Collection de graines (MGi)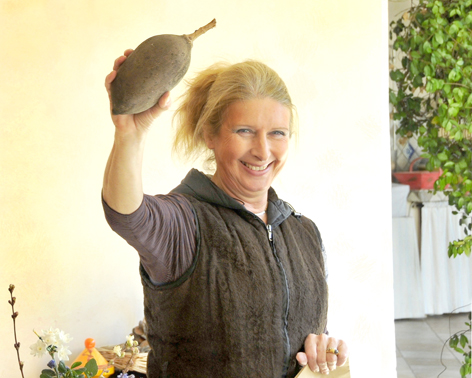 View the seed list / Voir la liste de graines
This seed collection, maintained by Chantal Guiraud in Montpellier, is open to members of organisations belonging to Mediterranean Gardening International, and to members of the Mediterranean Garden Society. Although we don't ask you to send in seed when you make an order, it's obvious that this free service will only work well if members contribute fresh seed each year. It isn't necessary to send in large quantities of each type of seed and there are no date limits for contributing or for ordering seeds. When sending or ordering seeds, please indicate in your email or letter, the name of the MGi gardening association to which you belong.
Cette collection de graines, gérée par Chantal Guiraud à Montpellier, est ouverte à tout membre adhéré à une des associations qui font partie de Mediterranean Gardening International, ainsi qu'aux membres du Mediterranean Gardening Society. Bien que vous ne soyez pas obligés d'envoyer des graines en échange, il est évident que ce service gratuit ne peut fonctionner que grâce à vos envois de graines fraîches chaque année. Il n'est pas nécessaire d'envoyer de grosses quantités à chaque fois. Il n'y a pas de date limite, ni pour l'envoi de graines, ni pour la commande de graines. Quand vous envoyez ou commandez des graines, veuillez indiquer dans votre mail ou dans votre lettre le nom de l'association MGi dont vous êtes membre.
The seed list will be updated at least twice each year, on 1 January for spring sowing and on 1 August for September sowing, the latter being particularly recommended for Mediterranean plants.
Sachez seulement que la liste sera mise à jour au moins 2 fois par an, au 1er janvier pour les semis de printemps et au 1er août pour les semis de septembre – saison fortement recommandée pour les plantes typiquement méditerranéennes.
Sending seeds
Collect seeds from your garden, clean off any debris, then put each variety in a paper envelope, clearly marked with the name of the plant, the date and the location where the seed was collected. These envelopes should then be placed in a padded envelope and posted to :
Envoi de graines
Insérer vos graines récoltées, nettoyées et débarrassées de tout débris dans une enveloppe papier en indiquant clairement sur chaque enveloppe le nom de la plante, la date et le lieu de récolte. Placez ensuite ces enveloppes dans une enveloppe à bulles et envoyez-la à l'adresse suivante :
Chantal Guiraud
75 rue de la Vieille Poste
34000 Montpellier
FRANCE
If possible, please email us photos of the plants whose seeds you send us by clicking here.
Envoyez-nous, si possible, les photos des plantes dont vous nous donnez les graines en cliquant ici.
Ordering seeds
You may order up to 10 packets of seeds each year or 15 packets if you have contributed seed yourself. It is a good idea to add 3 or 4 alternatives to your order in case the ones you want are out of stock. Send your order to Chantal either by post or email.
Commande de graines
Vous pouvez commander 10 paquets de graines chaque année ou 15 si vous êtes donateur. Il est fortement conseillé d'ajouter 3 ou 4 espèces différentes dans votre choix de graines en cas de rupture de stock. Envoyez votre commande à Chantal à l'adresse ci-dessus ou par mail.
European Union regulations
The latest European Union regulations require a phytosanitary certificate when importing seeds to France from a non-EU country, however this is not necessarily the case when exporting seeds. Regulations vary depending on the country.
Réglementation européenne
La nouvelle réglementation européenne exige un certificat phytosanitaire afin de pouvoir importer des graines arrivant d'un pays non-européen, mais le contraire n'est pas toujours valable. Il diffère selon le pays concerné.
More advice about seeds / Plus de conseils concernants les graines:
Easy Seeds / Graines faciles
Seeds to sow in July and August / semis de juillet et août
Seeds for September / Semis de Septembre
Propagation from seeds / Propagation par semis
Grasses on our Seed List / Graminées à choisir dans la liste de graines
Salvias