Gardens of Northern California
October 2017
In late October 2017, two of our Californian members, Kirsten Honeyman and Jolene Telles, led a fascinating tour of gardens around San Francisco, Carmel and in the San Joaquin valley.
Click on the tabs below to read reports on each area we visited.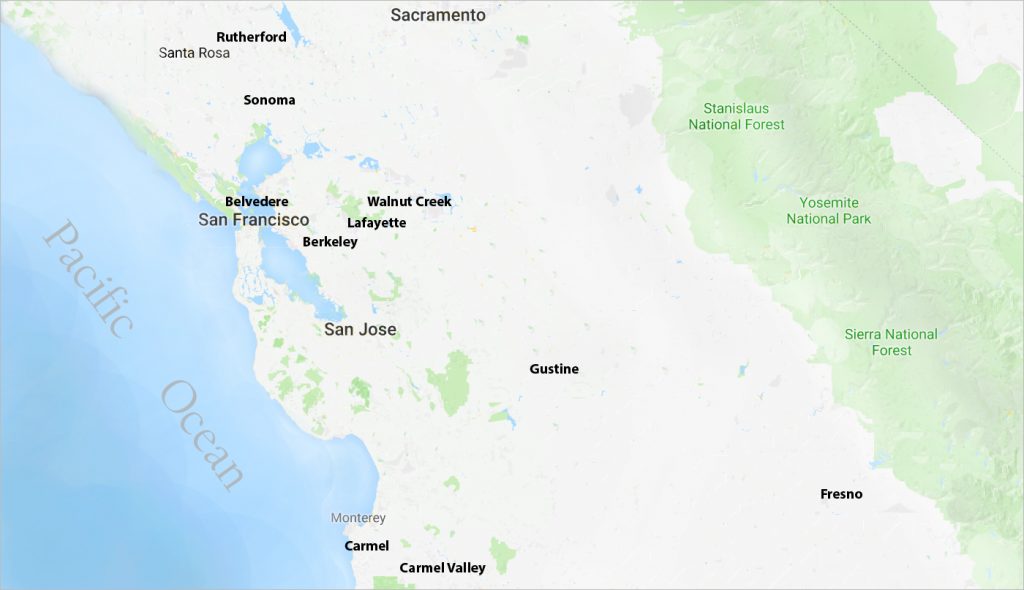 Click on the images to enlarge them / Cliquez sur les images pour les agrandir
Gardens of the wine country, San Francisco and the Bay Area
The Ruth Bancroft Garden
There is a review of the book about the Ruth Bancroft garden, 'The Bold Dry Garden' by Johanna Silver, on the MGi website.
Private gardens of the wine country and the East Bay
Other elements included a dry stream bed edged with Furcraea foetida,a water feature made of the same alluvial stones as the pyramid and an extensive fruit and vegetable garden.
On her website Katherine describes her garden thus:
Some interesting plants:
Botanical gardens in San Francisco and the Bay area
Here are some plants with strong architectural shapes and glaucus foliage:
Text and photos: Christine Daniels
Gardens and landscape of Carmel and the Pacific Coast
Bernard pointed out some of the plants he uses most often in clients' gardens:
Rhamnus californica 'Leatherleaf'
Fatsia japonica 'Spilt Milk'
Myrsine africana (a good alternative to box, with nice red stems)
Euonymus japonicus 'Green Spire' (a good hedge plant)
Plecostachys serpyllifolia
Arcostaphylos 'Pacific Mist', a manzanita
As it had started to rain, we took shelter indoors where we inundated Bernard with questions and enjoyed delicious refreshments. A truly memorable visit.
Some of Jolene's pots:
Rocky outcrops along the seashore were home to vast numbers of noisy sea birds, some of which wheeled above us, their wings outstretched in dramatic fashion.
Text and Photos: Christine Daniels
Gardens of Fresno and the San Joaquin valley
Our final destination was Fresno, situated to the east of Carmel in the San Joaquin valley. To get there, we crossed the coastal hills then drove through the vast flat-floored valley bounded by the Sierra Nevada mountains to the east. The valley has hot dry summers and normally rain in winter, though recently there have been several years with almost no rain at all. Here almost all of California's agricultural produce is grown, principally grapes, citrus fruit, almonds, pistachios, walnuts, vegetables and cotton. The extraction of ground water for irrigation has caused parts of the valley floor to sink and water use is a much-discussed topic here.
We stopped for lunch at Quinta Fey, in Gustine. This fascinating property, originally intended as a 'gentleman's farm', was built in the 1920s on a twelve-acre plot of land, entirely planted with English walnut trees (Juglans regia). Kirsten has written a wonderful article about the history of the property and the people who lived here, which was published in California's leading garden magazine, Pacific Horticulture. The house and hard landscaping are influenced both by Spanish colonial architecture and Mexican haciendas. Large quantities of terracotta and brightly coloured ceramic Arts and Crafts tiles have been used for flooring and walls, indoors and out. Plants were mainly succulents: yucca, euphorbia, echeveria, sedum, aloe, aeonium, plus cacti, palm trees and some roses.
The Old Fig Garden neighbourhood of Fresno, where Kirsten and Bruce have their home, was a delightful surprise. In 1912, real estate developer, J.C. Forkner, from Kansas, set about establishing the world's largest fig ranch, on a 12,000 acre plot which he called 'Fig Gardens'. He envisaged an estate where individual homes would be built, each one in a small, but potentially profitable, fig orchard. The project started well, but foundered in the Great Depression, however its legacy is an area of quiet shady streets dotted with occasional fig trees.
Kirsten loves to travel, especially to France, and the influences are clear in her garden. The entrance courtyard is dressed with clipped box hedges and terracotta pots. A path then leads from the gate, through a rose garden to the house and the front door. To the left is the shady pétanque court, lined with benches, then, circling round, a garden room with clipped box parterres and a lovely water feature. Continuing behind the house is the dining area, which Kirsten has named 'the French Quarter patio', then finally full circle, to the east garden which has a lawn and a potager.
Kirsten has described the creation of two parts of her garden on her website, La Dolce Vita: here and here.
Many years ago, the streets of the Old Fig Garden had been planted with Himalayan cedars (Cedrus deodara) and now majestic specimens give the area a distinctive character.
We were walking from Kirsten's house to Jolene's house – for lunch (Jolene loves to cook even more than she loves to garden).
Jolene's house was built in 'antebellum' style, the name given to an architectural style characteristic of the 19th century southern United States. At the back of the house a long verandah provides shade, then a grassy area leads on the potager, the orchard (Mission figs, Santa Rosa plums, peaches, nectarines, cherries and citrus) and the chicken shed.
Jolene proudly showed us her avocado tree, a special Mexican cultivar called Persea americana 'Zutano', which had eventually fruited after seven years.
Huge thanks from all of us to Kirsten, Jolene and Paul for their warm welcome and wonderful hospitality and to everyone who opened their gardens and shared their stories of Mediterranean climate gardening, California style.
Text and photos: Christine Daniels