January / janvier 2015 – A talk by Olivier Filippi
Landscapes of the garrigue, a new inspiration for our gardens
Paysages de garrigue, une nouvelle inspiration pour les jardins
This talk, at the Devezou centre in Montferrier-sur-Lez was organised jointly by Hortus and Mediterranean Gardening France.
Cette conférence à l'Espace Devezou à Montferrier-sur-Lez, était organisée conjointement par Hortus et Mediterranean Gardening France.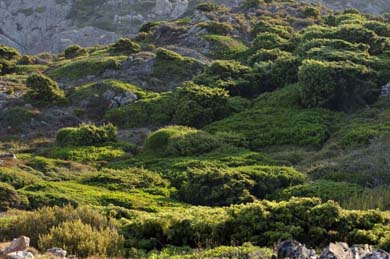 Brief synopsis:
Mediterranean plants have developed specific strategies to deal with difficult climate and soil conditions. These strategies provide them with a particular beauty which deserves to be displayed in gardens and green spaces. Taking us on a photographic journey around the Mediterranean, Oliver Filippi examines the Mediterranean landscape with the eyes of a gardener. From the Larzac plateau to the shores of the Greek islands, from the calanques of Marseille to the Turkish mountains via Sicily and the Dalmation coast, these landscapes, with their remarkably rich flora, are all sources of inspiration for the design of gardens today. By exploiting the astonishing variety of garrigue plants, at the same time both simple and beautiful, an easy-going garden can be created with low water and maintenance needs.
Courte synopsis:
Les plantes méditerranéennes ont développé des stratégies particulières pour résister aux conditions difficiles de climat et de sol. Ces stratégies leur donnent une beauté spécifique qui mérite d'être mise en valeur dans les jardins et les espaces verts. Au travers d'un voyage photographique autour de la Méditerranée, Olivier Filippi propose une lecture originale des paysages méditerranéens observés avec l'œil du jardinier. Du plateau du Larzac aux rivages des îles grecques, des calanques de Marseille aux montagnes de Turquie en passant par la Sicile ou les côtes de Dalmatie, ces paysages remarquables pour leur richesse floristique peuvent devenir autant de sources d'inspiration pour la conception des jardins contemporains. Valorisant l'étonnante diversité des plantes de garrigue, à la fois frugales et belles, ces jardins se révèlent faciles à vivre car peu gourmands en eau et en entretien.
Martine Rouayroux has written this account of the talk.