Juin 2012 – Visits to Gardens in the Aude
Click on the images to enlarge them / Cliquez sur les images pour les agrandir
La Bouichère in Limoux
The last visit of the summer season was to a garden where the emphasis is on scents and colours. La Bouichère was started some 30 years ago by Gabrielle and Pierre Gerber, a young couple with a limited budget, whose original plan was to grow and sell dried flowers and to cultivate fruit trees. Since then the garden has developed across a 2 hectare site and now contains many different smaller gardens each devoted to a different grouping of plants.
Gill Pound, our guide for the day, made the point that this is a real plantsman's garden and as we wandered around she encouraged us to rub the leaves of the plants and enjoy the varied perfumes. She also pointed out something which rapidly became obvious to us as dry gardeners; this garden enjoys a plentiful supply of water! Limoux is on the edge of the Mediterranean climate zone and benefits from the River Aude passing close by. However, although many of us will never grow the willows or bamboo we saw, there were many plants to interest us that tolerate dry conditions.
We were greeted at the entrance to the garden first by extremely garrulous parrots, then by pots of scented-leaved pelargoniums leading to a whole section of the garden devoted just to these wonderful plants. We were much taken with the lemon-scented Pelargonium crispum and by Pelargonium 'Prince of Orange' with its scent of orange peel.
Next came the grass garden, containing some excellent plants including the magnificent Helictotrichon sempervirens, a Mediterranean native and great for dry conditions and moving on, something completely different, the leopard lily, Iris domestica, formerly known as Belamcanda chinensis, with star shaped spotted yellow-gold flowers, and fabulously architectural leaves.
The Medieval Garden has a 'Hortulus', a list of plants whose uses were known in antiquity, and more recently used by those local heroes, the Cathars. The ethno-botanic collection includes Anthemis tinctoria, whose roots are used for dye and Bituminaria bituminosa, or pitch trefoil, used as an infusion to counter epilepsy, hysteria and snake bites! Here we found borders devoted to oregano and thymes including a lavender scented variety, Thymus thracicus and a delightful mint border with some rather unusual 'flavours', for example, banana, Mojito, Chartreuse and Hemingway, a particularly fruity number….
The dry garden yielded, amongst a wealth of wonderful plants, a collection of teucriums and of salvias, including the Namibian sage Salvia namaensis – confusingly named in French as 'Sauge de Somalie'.
Other beauties were Cosmos sulphureus, with its bright orange flower, the bold Hesperaloe parviflora, the red yucca, which is robustly cold tolerant despite its tropical good looks and the triffid-like Helianthus salicifolius.
Then there were sculptures, some whimsical pieces in distressed metal and some re-cycled tree trunks, especially the ancient, but now sadly deceased, olivier de Bohème (Eleagnus angustifolia) the only tree in the garden when the Gerbers arrived.
Le jardin de la petite pépinière de Caunes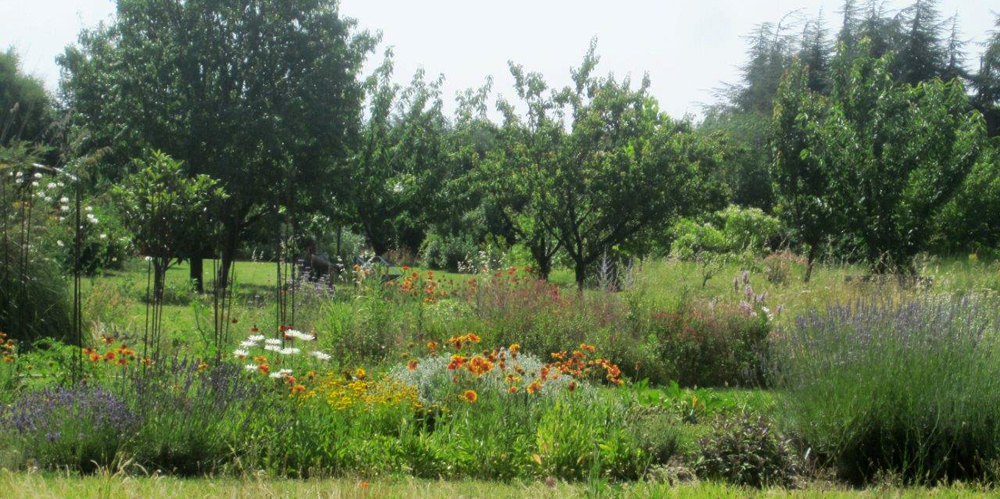 The following day we spent the morning with Gill in her garden at Caunes-Minervois.
It was looking great, and we much admired her beautiful trees and shrubs, including the gorgeous Chilopsis linearis, several varieties of hibiscus and Heteromeles salicifolia (syn. H. arbutifolia) a California native but relatively robust.
We were also totally smitten by Gill's colourful mixed borders and with her grass garden, a lovely sinuous design, with clever use of the local river pebbles as mulch.
Many different varieties of grass were included, of different colours, heights and textures – new to us were the airy Eragrostis curvula and Eragrostis elliotii.
La Grande Maison, Cesseras
Finally we moved on to Liz and Jacques Thompson's garden in Cesseras where we admired the formal courtyard garden and the newly planted terraces before retiring to a shady corner to enjoy a delicious buffet lunch.
We came away with lots of inspiration for our gardens and much to mull over before the forthcoming planting season. Many thanks to Gill for organising and guiding the trip.
---
---
Text: Sandra Cooper
Photos: Christine Daniels