June / juin 2017
Le Jardin du Tomple, Concoules, Gard
The garden is hidden deep in a valley in the Hautes Cévennes, between Génolhac and Concoules, at the foot of Mont Lozère. We descended by hairpin bends on a steep narrow track, at one point crossing a single-track railway line and what appeared to be a tiny station, but we later learned was a railway worker's cottage. Then, crossing the river, we found ourselves in the garden and being warmly greeted by its owner, Véronique Lacaze.
Le jardin est caché au loin dans une vallée des Hautes Cévennes, entre Génolhac et Concoules, au pied du Mont Lozère. Nous sommes descendus par des virages en épingle à cheveux sur un chemin raide et étroit, jusqu'à un endroit où se croisait une unique voie ferrée et ce qui semblait être une gare minuscule. Nous apprendrons plus tard qu'il s'agissait en fait de la maison d'un employé des chemins de fer. Puis, en traversant une rivière, nous nous sommes retrouvés dans le jardin où nous avons été chaleureusement accueillis par sa propriétaire, Véronique Lacaze.
Véronique explained that it was 22 years ago that she and her mother decided to create a garden in this secluded spot which had been a goat farm. The 1.5 hectares of land lie at an altitude of 500m and have hot, dry summers and cold winters (to -17°C). The soil is acid, with schist and granite below. For watering in summer, they are able to use river water as needed, which enabled them to start by intermingling hydrangeas, viburnums, roses, aquilegias and foxgloves in an informal style which Véronique's mother calls 'jardin anglais'.
Véronique nous expliqua qu'il y a 22 ans, elle et sa mère avaient décidé de créer un jardin dans ce lieu isolé qui avait été autrefois un élevage de chèvres. Ce terrain d'1,5 hectares se situe à une altitude de 500m, là où les étés sont chauds et secs, et les hivers froids jusqu'à -17°C. Le sol est acide et la roche mère se compose de schiste et de granite. Pour arroser en été, elles ont la possibilité de capter l'eau de la rivière ce qui leur a permis de planter des hortensias, des viornes, des rosiers, des ancolies et des digitales pour un style informel que la mère de Véronique désigne comme 'jardin anglais'.
Near to the house is a bassin surrounded by shrubs and roses in full flower.
À côté de la maison se trouve un bassin entouré d'arbustes et de rosiers recouverts de fleurs.
However, the striking American black walnut tree (Juglans nigra) which was planted from a seed, had completely bare branches. Véronique told us that the leaves appear without fail on the 14th of July each year! There was also a beautiful chestnut tree (Castanea sativa) 'l'arbre des Cévennes' which we had seen cladding the hillsides on our drive to Génolhac. The bassin used to be full of trout which was sold at the same time as the goat's cheese, but now it is purely ornamental.
Cependant, le remarquable noyer d'Amérique (Juglans nigra), qui fut planté à partir d'une noix, avait ses branches complètement nues. Véronique nous expliqua que les feuilles apparaissent chaque année le 14 juillet et ce sans exception ! Il y avait également un très beau châtaignier (Castenea sativa), l'arbre emblématique des Cévennes, que nous avions vu peupler les coteaux depuis notre route vers Génolhac. Autrefois, le bassin était rempli de truites qui étaient vendues en même temps que les fromages de chèvres, il est maintenant purement ornemental.
All the plants are labelled, with attention to botanic accuracy, particularly useful since there were so many varieties, in particular of roses, viburnums and cornus.
Toutes les plantes ont étiquetées, avec une attention particulière pour leur justesse botanique, ce qui fut bien utile au vue du nombre de variétés présentes, en particulier les rosiers, les viornes et les cornouillers.
Grassy paths led through dense planting to a pond and eventually to a chicken coop, where the colour of the black and white chickens echoed the black and white of the adjacent shrubs, Sambucus nigra and philadelphus.
Des chemins herbeux nous ont mené au travers de plantations denses jusqu'à un étang et un poulailler, où la couleur des poulets noirs et blancs faisait écho à celle des arbustes adjacents, Sambucus nigra et philadelphus.
Véronique is a great plant enthusiast and regularly adds to her collections. We saw many newly-planted shrubs, especially in the outer area of the garden where there are now over thirty varieties of cornus. In this area, the atmosphere changes as one enters a butterfly-filled meadow with a rill and paths meandering through boulders and grasses.
Véronique est une passionnée de plantes et en rajoute régulièrement à sa collection. Nous avons pu voir beaucoup d'arbustes nouvellement plantés, en particulier dans la partie périphérique du jardin où se trouve maintenant plus d'une trentaine de variétés de cornouillers. Dans cet endroit, l'atmosphère change au fur et à mesure que l'on pénètre dans une prairie remplie de papillons où se trouve un petit ruisseau et des chemins serpentant au travers des rochers et des graminées.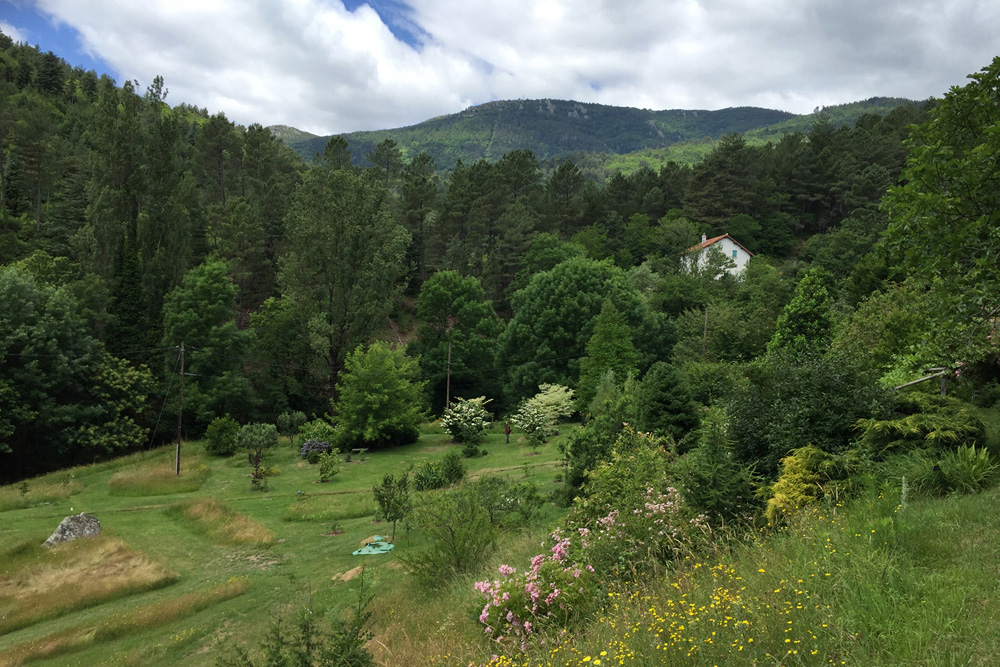 The valley is surrounded by a cedar forest and on the lower slopes fruit trees have been planted – quince, pear, apple and apricot. A path climbs towards the planted terraces, the driest part of the garden but still densely planted with shrubs and perennials.
La vallée est entourée d'une forêt de cèdres et sur les pentes les plus basses de fruitiers qui furent plantés (cognassiers, poiriers, pommiers et abricotiers). Un chemin grimpe au travers des terrasses qui est la zone la plus sèche du jardin mais pour autant densément plantée d'arbustes et de vivaces.
We particularly admired Kalmia latifolia and Physocarpus opulifolius 'Diable d'Or' and the succulent Graptopetalum paraguayense growing along one of the terrace walls.
Nous avons particulièrement admiré le Kalmia latifolia, le Physocarpus opulifolius 'Diable d'Or' et la plante grasse Graptopetalum paraguayense poussant sur l'une des terrasses.
The garden is also full of whimsical touches which add to its charm. An insect hotel, a collection of rusty garden tools, a line of old watering cans and a yurt filled with comfy seats and garden books sit amongst the planted spaces.
Le jardin est également rempli de petites touches fantaisistes qui s'ajoutent à son charme. Un hôtel à insectes, une collection d'outils de jardin rouillés, une ligne de vieux arrosoirs et une yourte remplie de fauteuils confortables et des livres de jardinage se trouvent au milieu des espaces plantés.
The welcome was warm and generous and the whole experience most definitely 'worth the journey'. Thank you to Elisabeth Gratraud for arranging the trip.
L'accueil fut chaleureux et généreux et cette expérience valait définitivement le voyage ! Un grand merci à Elisabeth Gratraud pour avoir organisé le voyage.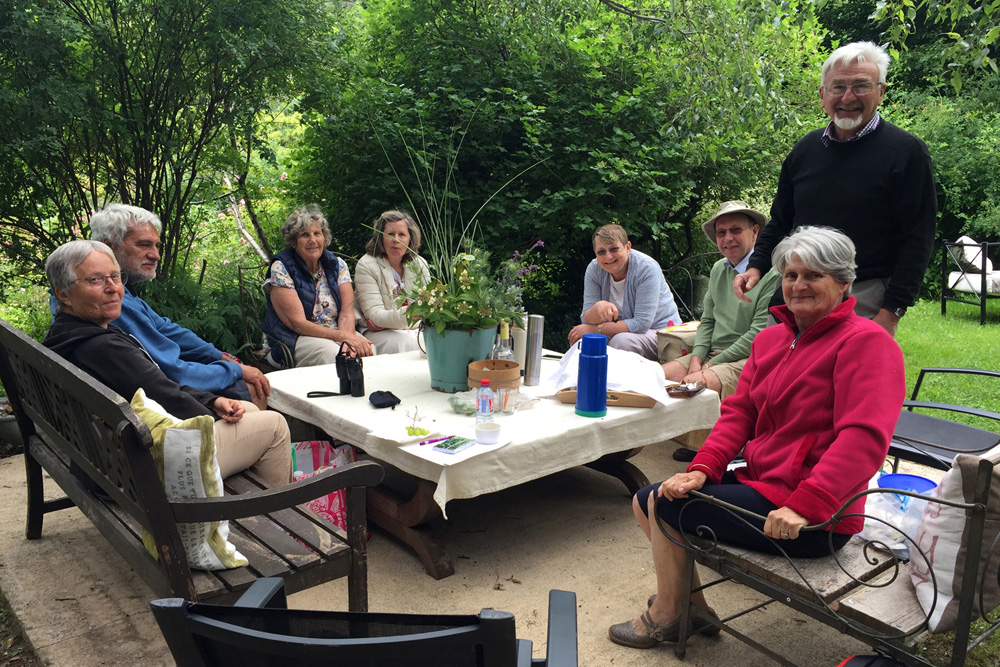 Text and photos: Christine Daniels
Translation into French: Nina Guichard