May /mai 2018 – The MGF Annual General Meeting
L'Assemblée Générale 2018, Fayence, Var
Two days of visits to gardens and a vinaigrerie near to the picturesque perched village of Fayence, in the Var.
Deux jours de visites des jardins et d'une vinaigrerie à proximité du pittoresque village perché de Fayence, dans le Var.
Click on an image to enlarge it / Cliquez sur une image pour l'agrandir
La Vinaigrerie du Clos Saint Antoine
On Thursday May 17th two groups visited the Vinaigrerie du Clos Saint Antoine in Callas. Founded in 1997 by David Doczekalski, he is one of only a handful of artisans in France making vinegar in the traditional way.
Le jeudi 17 mai, deux groupes ont visité la Vinaigrerie du Clos Saint Antoine à Callas. Fondé en 1997 par David Doczekalski, il est l'un des rares artisans en France à fabriquer du vinaigre selon la méthode traditionnelle.
His vinegars are made from the best wines of Provence and aged in oak barrels and 'demi-johns'. The resulting products have subtle and exquisite flavours. A fine reward for his hard work has been the award of two gold medals at the recent Cordoba International vinegar concourse.
Ses vinaigres sont issus des meilleurs vins de Provence et élevés en fûts de chêne et « demi-johns ». Les produits qui en résultent ont des saveurs subtiles et exquises. Une belle récompense pour son travail acharné a été l'attribution de deux médailles d'or au récent concours international de vinaigres de Cordoue.
David's balsamic vinegars are produced by cooking the grape must for 30 hours to reduce the volume by 60%, this residue is then fermented and then a small amount of wine vinegar added. After two years aging in the Provençal sun in glass 'Demi Johns' infused with cherry or oak or juniper wood, the balsamic vinegar is ready for consumption. No thickeners or caramel are added during the process.
Les vinaigres balsamiques de David sont produits en faisant cuire le moût de raisin pendant 30 heures pour réduire le volume de 60%, ce résidu est ensuite fermenté et puis une petite quantité de vinaigre de vin est ajoutée. Après deux ans de vieillissement au soleil provençal en verre « Demi Johns » infusé de cerisier, de chêne ou de genévrier, le vinaigre balsamique est prêt à consommer. Aucun épaississant ou caramel ne sont ajoutés pendant le processus.
David also produces a range of natural mustards with no artificial additives.
David produit également une gamme de moutardes naturelles sans additifs artificiels.
The visit was greatly enjoyed by both our groups who staggered to their cars under the weight of David's wonderful products.
La visite a été grandement appréciée par nos deux groupes qui ont chancelé vers leurs voitures sous le poids des produits merveilleux de David.
Text and photos: Nicola D'Annunzio
Traduction en français: Eric Legrand
La Campagne Sainte-Marie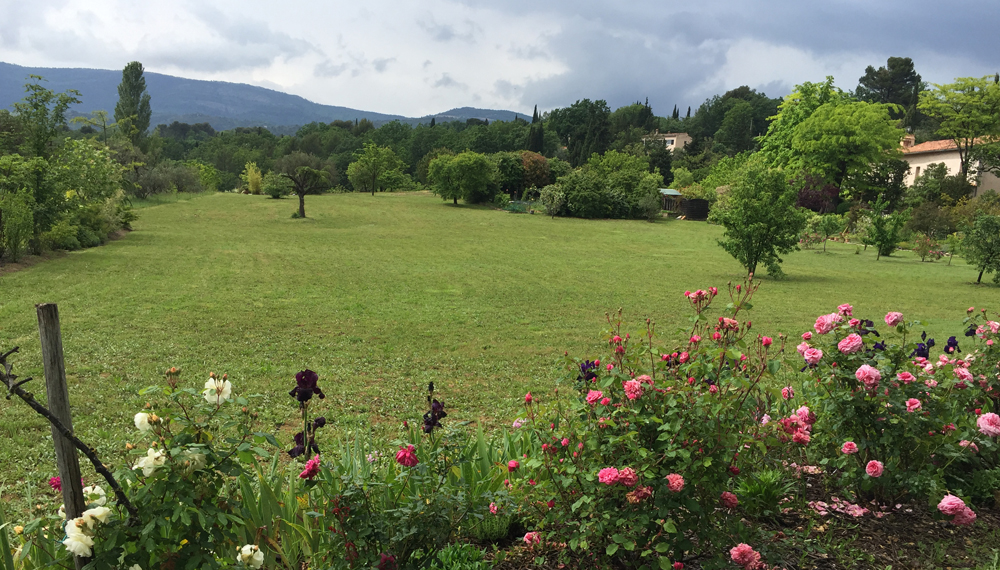 We visited La Campagne Sainte-Marie, Nicole Rengade's two hectare garden beside the old farmhouse where she has lived for many years, in a setting with lovely views of distant hills. The garden has ancient trees including mulberry, oaks, cypresses, gleditsia, cercis, yew and figs and is divided into sections, or rooms, linked in natural ways. Roses, peonies and flowering ground cover lined the paths and members were busy noting the plants as Nicole took us round.
Nous avons visité La Campagne Sainte-Marie, le jardin de deux hectares de Nicole Rengade à côté de la vieille ferme où elle a vécu pendant de nombreuses années, dans un cadre avec de belles vues sur les collines lointaines. Le jardin a des arbres anciens : mûrier, chênes, cyprès, gleditsia, cercis, ifs et des figuiers, il est divisé en sections ou chambres, liées de façon naturelle. Des roses, des pivoines et une couverture de sol fleurie bordaient les allées Les membres étaient occupés à noter les plantes tandis que Nicole nous faisait faire le tour.
In the alkaline clay soil, Nicole has planted around 800 varieties of trees shrubs, perennials and geophytes. Her aim is to have colour and scent throughout the year.
Dans le sol argileux alcalin, Nicole a planté environ 800 variétés d'arbres arbustifs, de vivaces et géophytes. Son but est d'avoir de la couleur et du parfum tout au long de l'année.
In an adjoining meadow three donkeys seemed to be enjoying life.
Dans une prairie voisine, trois ânes semblaient apprécier la vie.
Several members commented about the contrast between the two gardens we had visited on that Friday, both beautiful, but very different.
Plusieurs membres ont commenté le contraste entre les deux jardins que nous avions visités ce vendredi, tous deux beaux, mais très différents.
Text: Sandy Graham
Photos: Sandy Graham, Kevan Kristjanson and Christine Daniels
Traduction en français: Eric Legrand
See more of Kevan's photos in this album.
Carla and Herman's garden
Carla and Herman have designed a garden to complement the strikingly modern house they built nearly twenty years ago. When they bought the plot of land, an oak wood and an ancient olive grove dominated the sloping terrain. They decided to keep the same relief by terracing the land and building retaining stone walls, which also act as an attractive back drop for the trees, shrubs and flowers. The garden is cleverly shaped by walls and hedges and the magnificent sculptures are carefully positioned so as to be admired from all angles.
Carla et Herman ont dessiné un jardin afin de parachever la maison étonnamment moderne qu'ils ont fait construire il y a de cela vingt ans. Lorsqu'ils ont acheté le lopin de terre, une chênaie et une ancienne oliveraie dominaient le terrain en pente. Ils décidèrent de garder la même topographie en construisant des restanques avec des murs de soutènement en pierres, qui, ainsi fournissent un séduisant arrière-plan pour les arbres, arbustes et fleurs. Le jardin est façonné de manière intelligente par des murs et des haies et les magnifiques sculptures sont soigneusement placées afin d'en profiter sous tous les angles.
This is still a relatively young garden and many parts, including the lower terrace, are only recently planted. It is a garden for all seasons, as Carla and Herman not only have a large variety of plants but also a particular interest in irises, peonies and hellebores of which they have an impressive collection. Growing between these are different varieties of drought-resistant Provençal plants including many unusual ones. All of the plants need little watering during the dry summer months.
C'est un jardin encore relativement jeune et, de nombreuses parties, y compris la terrasse inférieure, viennent d'être aménagées. C'est un jardin des quatre saisons, car, non seulement Carla et Herman ont une grande variété de plantes, mais aussi un intérêt particulier pour les iris, pivoines et hellébores dont ils ont une impressionnante collection. Se glissant entre ces végétaux, Il y a différentes variétés de plantes provençales résistant à la sécheresse, dont beaucoup sont peu communes. Toutes ces plantes nécessitent peu d'eau pendant les mois d'été.
The pool has a stunning back drop onto the forested hills. A carefully placed Cupressus sempervirens accentuates the view.
La piscine a une vue impressionnante sur les collines boisées en toile de fond. Un Cupressus sempervirens bien placé accentue cette vue.
We began a tour of the garden on the same level as the house. Against the back wall on the right is Viburnum x carlcephalum and next to it a Sophora microphylla 'Sun King'. Under the olive tree is an area made up solely of plants grown from seed or cuttings: varieties of cistus, euphorbia and iris along with Epimedium × perralchicum 'Fröhnleiten', Psephellus bellus and some arum lilies (Zantedeschia aethiopica). As we moved away, we looked up to admire a Cestrum aurantiacum with its orange-yellow flowers. Herman referred to this as a miracle tree because it is only supposed to be hardy to -3°C whereas Fayence occasionally has temperatures as low as -7 to -10°C. Behind this tree is a rose acacia,(Robinia hispida), which is fully adapted to the Mediterranean climate but has very brittle branches that break easily in the mistral wind.
Nous commençons la visite du jardin par le même niveau que celui de la maison. Contre le mur arrière sur la droite se trouvent Viburnum x carlcephalum et Sophora microphylla 'Sun King'. Sous l'olivier il y a un massif de plantes issues de semis ou de boutures uniquement : des cistes, euphorbes et iris ainsi que Epimedium x perralchicum 'Fröhnleiten', Psephellus bellus et quelques arums (Zantedeschia aethiopica). Alors que nous nous éloignions, nous avons pu admirer un Cestrum aurantiacum avec ses fleurs jaune-orangé. Herman parle d'arbre miraculeux car il est supposé ne pas supporter des froids en-dessous de -3°C, attendu que Fayence peut enregistrer des températures parfois aussi basses que -7 à -10°C. Derrière cet arbre, il y a un acacia rose (Robinia hispida), qui est très bien adapté au climat méditerranéen mais dont les branches très fragiles cassent facilement avec le mistral.
In front of the house, under a canopy of olive trees, we were interested to see an area that Carla described as 'experimental'. Beds of Vinca minor, Psephellus bellus, and Gladiolus communis were separated by small hedges of Myrtus communis subsp. tarentina which are a slower growing but healthier substitute for the common Buxus sempervirens.
En face de la maison, sous la canopée des oliviers, nous nous sommes intéressés à un coin décrit par Carla comme expérimental. Des masses de Vinca minor, Psephellus bellus et Gladiolus communis sont séparés par de petites haies de Myrtus communis subsp. tarentina qui poussent plus lentement que Buxus sempervirens mais qui constituent un remplacement plus sûr.
Further along the terrace are two groups of large, white Agapanthus 'White Heaven'. The small orange-flowered shrub behind the yellow-flowered Gazania rigens is a Glaucium corniculatum (Horned Poppy) and next to it a pink rose (name unknown). In the distance is a Yucca gigantea and the golden-flowered shrub Fremontodendron californicum.
Plus loin sur la terrasse, il y a deux masses de grosses Agapanthus 'White Heaven' blanches. Le petit arbuste à fleurs orange derrière le Gazania rigens à fleurs jaunes est un Glaucium corniculatum (Pavot cornu) et on ne connait pas le nom du rosier à fleurs rose à côté. Au loin, on peut voir un Yucca gigantea et un Fremontodendron californicum, arbuste à fleurs jaune d'or.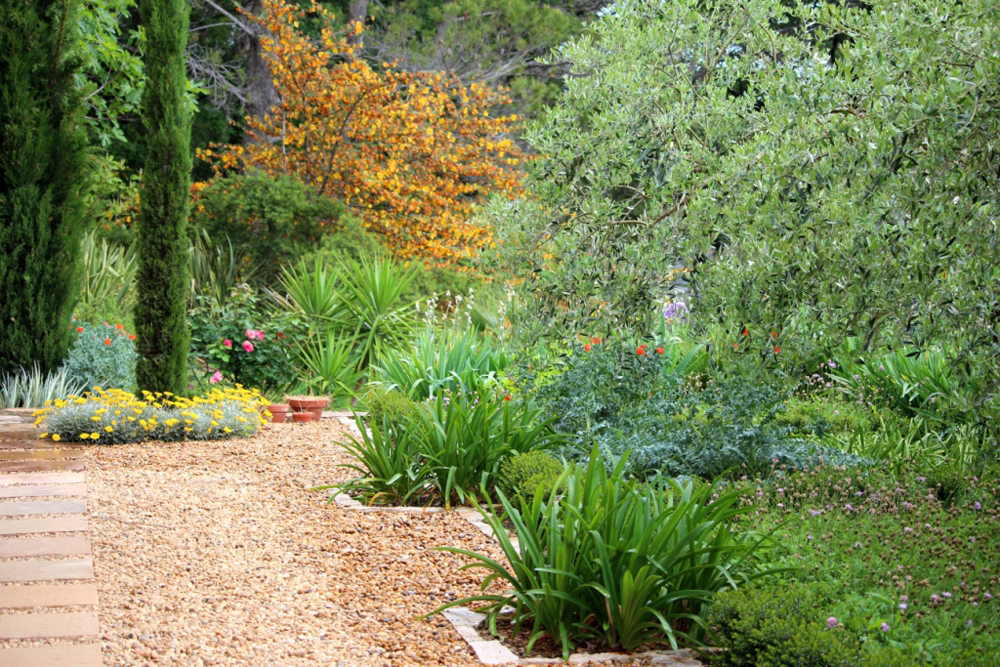 Next to a shady wall, a Hydrangea petiolaris was flourishing and proving to be extremely drought tolerant. Further on, Laburnum anagyroides (common laburnum) was in full flower.
Contre un mur ombragé, un Hydrangea petiolaris semble florissant et s'avère être vraiment résistant à la sécheresse. Plus loin, Laburnum anagyroides (Cytise faux ébénier) est en pleine floraison.
As we walked down the path to a lower terrace we admired an ancient sculptural olive tree surrounded by Iris Florentina then followed a path bordered by Phormium tenax (New Zealand flax), Cistus x purpureus 'Alan Fradd', Cistus x pulverulentus, and Phlomis italica.
Alors que nous descendions le long du chemin vers une restanque inférieure, nous avons admiré un ancien olivier sculptural entouré d'Iris florentina, puis nous avons suivi une allée bordée de Phormium tenax (Lin de Nouvelle-Zélande), Cistus x purpureus 'Alan Fradd', Cistus x pulverulentus et Phlomis italica.
Stunningly positioned, to draw the eye, was a large stainless steel sculpture by David Harber. The rusty red colouring was made by applying acid on to the steel. In the background is a Washingtonia robusta (Mexican fan palm).
Une immense sculpture en acier inoxydable de David Harber est placée de façon spectaculaire afin d'attirer l'attention. La couleur rouille est obtenue en appliquant de l'acide sur l'acier. En arrière-plan, se trouve un Washingtonia robusta.
A pergola supports a Wisteria sinensis and underneath is a copper sculpture by Charlotte Mayer.
Une pergola supporte une Wisteria sinensis et en-dessous on peut voir une sculpture en cuivre de Charlotte Mayer.
Carla and Herman have a fabulous collection of peonies. In flower for our visit were:
Carla et Herman possèdent une fabuleuse collection de pivoines. Nous avons pu voir en pleine floraison :
Other plants looking good:
D'autres plantes intéressantes :
Having finished our fascinating tour of the garden we returned to the terrace where we were treated to delicious refreshments. Carla and Herman chatted to us about how they had created the garden and answered our many questions. A few lucky people took away irises from the collection. We felt very privileged to have been invited to visit and to have the opportunity to see a garden which, in the view of many of us, is one of the most interesting and beautiful new private gardens in Provence.
Après avoir fini cette fascinante visite du jardin, nous sommes revenus sur la terrasse où nous avons dégusté des rafraîchissements. Carla et Herman ont discuté avec nous sur la façon dont ils ont créé le jardin et ont répondu à de nombreuses questions. Quelques-uns d'entre nous ont eu la chance de repartir avec des iris de collection. Nous nous sommes sentis vraiment privilégiés d'avoir été invités à voir ce jardin qui, d'après beaucoup d'entre nous, est un des plus beaux et plus intéressants des nouveaux jardins privés de Provence.
Text: Tilly Chambers
Photos: Kevan Kristjanson
Traduction en français : Chantal Guiraud