May / mai 2022
L'Assemblée Générale 2022, Pont-du-Gard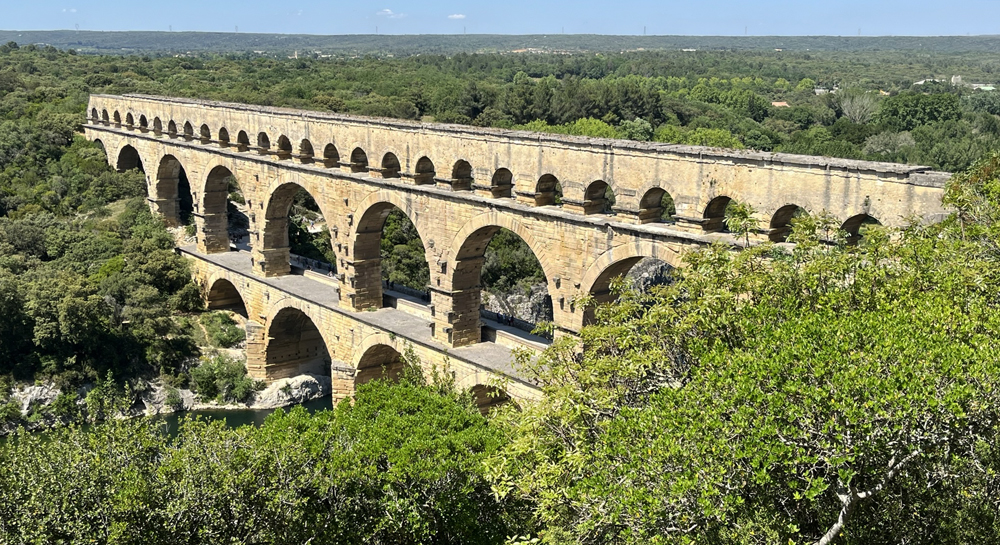 Click on the images to enlarge them / Cliquez sur les images pour les agrandir
The 2022 AGM, organised by Nina Guichard and Christine Daniels, was held at the restaurant Les Terrasses at Pont-du-Gard. After the meeting, some members picnicked by the river, others ate in the restaurant.
L'AG 2022, organisée par Nina Guichard et Christine Daniels, s'est tenue au restaurant Les Terrasses au Pont-du-Gard. Après la réunion, certains membres ont pique-niqué au bord de la rivière, d'autres ont profité du restaurant.
In the afternoon we assembled for a tour of the aqueduct, which was constructed in the first century AD to carry water from the springs of the Fontaine d'Eure, near Uzès, to the Roman city of Nemausus (Nîmes).
Dans l'après-midi, nous nous sommes réunis pour une visite de l'aqueduc, qui a été construit au premier siècle après J.-C. pour transporter l'eau des sources de la Fontaine d'Eure, près d'Uzès, à la ville romaine de Nemausus (Nîmes).
It was exciting to stand on the uppermost tier of the bridge, and the views were stunning.
C'était captivant de se tenir sur le niveau le plus élevé du pont, et la vue était magnifique.
Inside the water conduit we observed the effects of the high levels of dissolved calcium carbonate in the spring water. A thick layer of calcareous deposit coated both sides of the channel.
À l'intérieur du conduit d'eau, nous avons observé les effets des quantités élevées de carbonate de calcium dissous dans l'eau de source. Une épaisse couche de dépôt calcaire recouvrait les deux côtés du canal.
After the bridge tour, some of us went on to explore the rest of the site. There are a number of ancient olive trees, and next to one is a plaque which reads: "I was born in 908 AD and until 1985 lived in a cold and arid valley in Spain. I was planted here on 23 September 1988."
Après la visite du pont, certains d'entre nous ont continué à explorer le reste du site. Il y a un certain nombre d'oliviers anciens, et à côté de l'un d'eux se trouve une plaque où l'on peut lire: "Je suis né en 908 et j'ai vécu jusqu'en 1985 dans une vallée froide et aride d'Espagne. J'ai été planté ici le 23 septembre 1988".
The Mémoires de Garrigue trail winds through a vernacular Mediterranean landscape, with dry stone walls, wild flowers and shrubs, and restored agricultural land.
Le sentier des Mémoires de Garrigue serpente à travers un paysage méditerranéen vernaculaire, avec des murs de pierres sèches, des fleurs et des arbustes sauvages, et des terres agricoles réhabilitées.
---
Text: Christine Daniels
Photographs: David Ash