November / novembre 2016
Visite du Clos des Roses, Fréjus, Var
Click on an image to enlarge it / Cliquez sur une image pour l'agrandir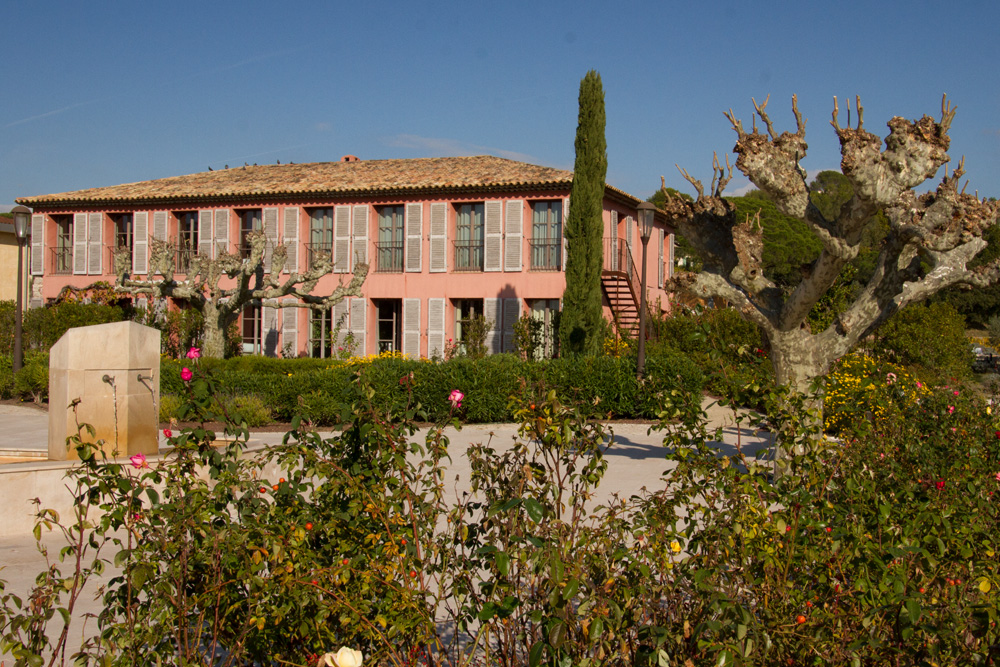 The vineyard Le Clos des Roses was bought in 2006 by the Barbero family and named in memory of the current owner's mother Rose. The family has carried out an extensive programme of improvements, replanting many of the vines in order to improve quality and obtain the Côtes de Provence appellation. The rich soil is of volcanic origin and the domain, though not strictly organic, uses only natural products. A modern chapel has been added and the old farm house extended to house a seven-room hotel with a gourmet restaurant. In addition a big potager and a long rose-arch have been created and a flower-meadow planted to attract the eye of passers-by on the main road to Fréjus. Many colourful modern sculptures decorate the property.
Le domaine du Clos des Roses fut acheté en 2006 par la famille Barbero et doit son nom à Rose, la mère du propriétaire actuel. La famille a entièrement réaménagé le domaine, en replantant beaucoup de parcelles dans le but d'améliorer la qualité et d'obtenir l'appellation Côtes de Provence. Le sol fertile est d'origine volcanique et le domaine, bien qu'il ne soit pas biologique au sens strict du terme, n'utilise que des produits naturels pour traiter les vignes. Une chapelle moderne a été construite et la vieille ferme a été transformée en hôtel de 7 chambres, avec restaurant gastronomique. En plus, un potager et une tonnelle couverte de roses ont été créés et une prairie fleurie a été plantée le long de la route de Fréjus, pour attirer l'œil des passants. Le domaine abrite de nombreuses sculptures modernes multicolores.
After being given a brief history of the vineyard and the nine different grape-varieties which are grown here (including Grenache, Mourvèdre, Cinsault, Syrah, Rolle, Viognier, Cabernet, Sauvignon blanc and Merlot), we visited the chapel with its decorative murals by local artist Régis Cauvin and its five modern stained-glass windows commemorating saints chosen by the grandchildren. We were then treated to an explanation of the cultivation of the flower-meadow by the domain's gardeners, before enjoying a wine tasting and lunch in the charming restaurant with its terrace and open fireplace.
Notre guide a présenté un bref historique du domaine et nous a parlé des neuf cépages qui y sont cultivés (parmi lesquelles Grenache, Mourvèdre, Cinsault, Syrah, Rolle, Viognier, Cabernet, Sauvignon blanc et Merlot) Puis nous avons visité la chapelle ornée de magnifiques peintures réalisées par le peintre local Régis Cauvin et de cinq vitraux représentant des saints choisis par les petits-enfants de la famille. Ensuite, les jardiniers du domaine nous ont expliqué comment ils cultivent la prairie fleurie. Après, nous avons eu droit à une dégustation des vins du domaine, avant de déjeuner dans le charmant restaurant avec sa terrasse et sa cheminée ouverte.
Cultivation of the flower-meadow

November : the meadow is mown and hoed to get rid of the weeds.

December : granulated sheep manure is applied and worked into the soil.

April : the soil is loosened again, then, when rain is forecast, the seeds are mixed with sand and sown broadcast. The vineyard uses a seed-mixture called "Jour des Fêtes", which contains five flower varieties: Cosmos bipinnatus, Cosmos sulphureus, Zinnia elegans 'Sunbow', Tithonia rotundiflora 'Torch' and Centaurea cyanus. This mixture was chosen because it provides a new flush of flowers every two months, because of the colours of the flowers, and because it attracts butterflies (it does not, however attract bees). The vineyard uses 25 kg of seeds to sow a meadow of 5000 m2. After sowing, the meadow is rolled in order to press the seed into the ground and discourage birds. Seed is re-sown every year, in order to discourage weeds.
Cultivation de la prairie fleurie

Novembre : la prairie est fauchée puis désherbée à la binette.

Décembre : du fumier de mouton en granules est appliqué et enfoui.

Avril : le sol est biné encore une fois et, la veille d'une journée de pluie, les graines mélangées avec du sable sont semées à la volée. Le domaine sème un mélange de graines appelé « Jour de Fêtes », qui consiste en cinq variétés de fleurs : Cosmos bipinnatus, Cosmos sulphureus, Zinnia elegans 'Sunbow', Tithonia rotundiflora 'Torch' et Centaurea cyanus. Ce mélange a été choisi pour offrir une nouvelle floraison tous les deux mois, pour les couleurs des fleurs et pour attirer les papillons, (par contre, il n'est pas très utile pour les abeilles). Le domaine utilise 25 kg de graines pour un champ de 5000 m2. Après l'ensemencement, le champ est roulé pour enfoncer les graines et les protéger des oiseaux. Il est réensemencé chaque année, afin d'empêcher les mauvaises herbes de repousser et de prendre le dessus.
In dry spells, the meadow is watered once a week for 2 or 3 hours in the morning (the water comes from the Canal de Provence)
En cas de sécheresse, le champ est arrosé une fois par semaine, au matin, pendant 2 à 3 heures (l'eau vient du Canal de Provence).
Text: June Grindley & Michèle Bailey
Photos: Ian Davis
Traduction en français: Michèle Bailey