October / octobre 2022
Visits to gardens in Puget Ville and Giens, Var
Click on the images to enlarge them / Cliquez sur les images pour les agrandir
Le Jardin du Réal
Located in the heart of the hill of Puget Ville, at the foot of the Massif des Maures, le Jardin du Réal is a haven of peace. The garden is managed in an eco-responsible way, respecting biodiversity, with no use of pesticides or chemical products and using water from mountain streams.
Situé au cœur de la colline de Puget Ville, au pied du Massif des Maures, le Jardin du Réal est un havre de paix. Le jardin est géré de manière éco-responsable, dans le respect de la biodiversité, sans utilisation de pesticides ou de produits chimiques et en utilisant l'eau des ruisseaux de montagne.
Eighteen of us were shown over the two-hectare site by Frank, the head gardener, who has been involved since the inception of the garden about ten years ago. The site is on a steep hillside and is closely planted with trees and shrubs.
Nous étions dix-huit à être guidés dans ce site de deux hectares par Frank, le jardinier en chef, qui est là depuis la création du jardin il y a une dizaine d'années. Le site est situé sur une colline escarpée et est densément planté d'arbres et d'arbustes.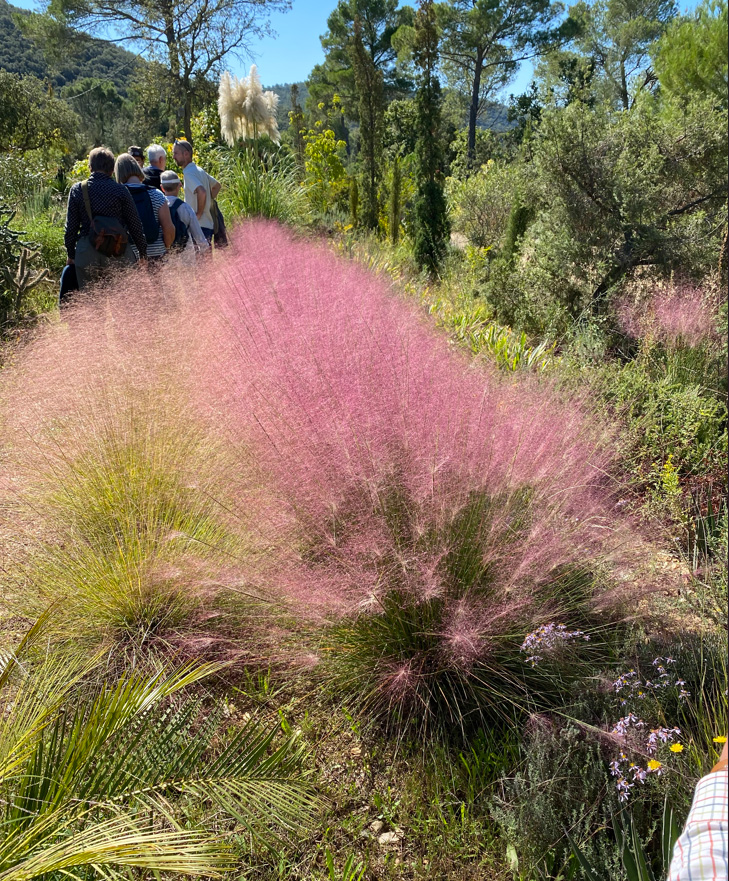 The planting takes advantage of the variety of conditions within the garden. The mimosa collection is extensive and includes one that Frank claimed flowers almost all year round and yes, here it was, flowering in October. The local streams feed several ponds featuring water lilies and papyrus and seemed hardly affected by this year's drought.
Les plantations tirent parti de la diversité des conditions dans le jardin. La collection de mimosas est importante et comprend un mimosa qui, selon Frank, fleurit presque toute l'année et, effectivement, il fleurissait en octobre. Les ruisseaux locaux alimentent plusieurs étangs dans lesquels on trouve des nénuphars et des papyrus et ne semblent pas avoir été affectés par la sécheresse de cette année.
Some members admired two very healthyWollemia nobilis. I loved an area with seating and brugmansia planted all around to form a sort of scented grotto. Propagation is essential to supply the garden with new and replacement plants and we had the chance to buy plants from some of the enthusiastic volunteers who work at the garden.
Certains membres ont admiré deux Wollemia nobilis très vigoureux. J'ai bien aimé un endroit avec des sièges et des brugmansia plantés tout autour pour former une sorte de grotte parfumée. La multiplication est essentielle pour approvisionner le jardin en plantes nouvelles et de remplacement et nous avons eu l'occasion d'acheter des plantes à certains des bénévoles enthousiastes qui travaillent au jardin.
The visit ended with a convivial paella lunch, cooked by Frank.
La visite s'est terminée par un repas convivial avec une paella, préparé par Frank.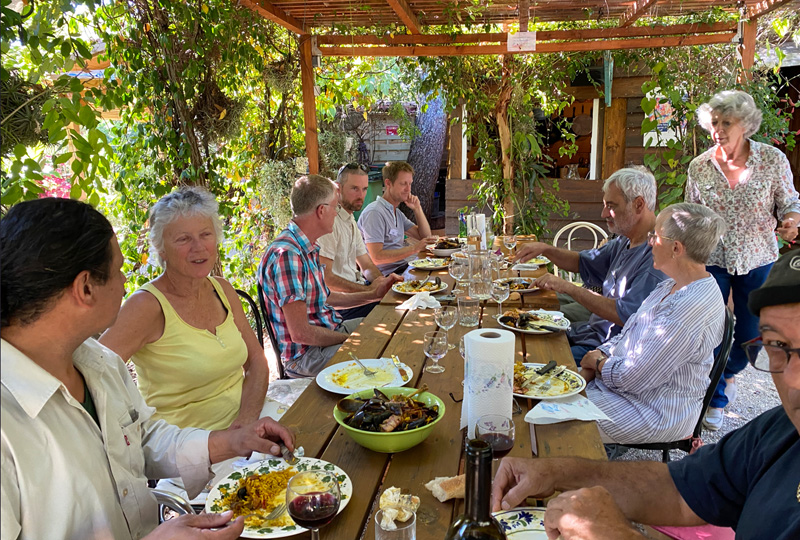 Le Jardin exotique du Château Noir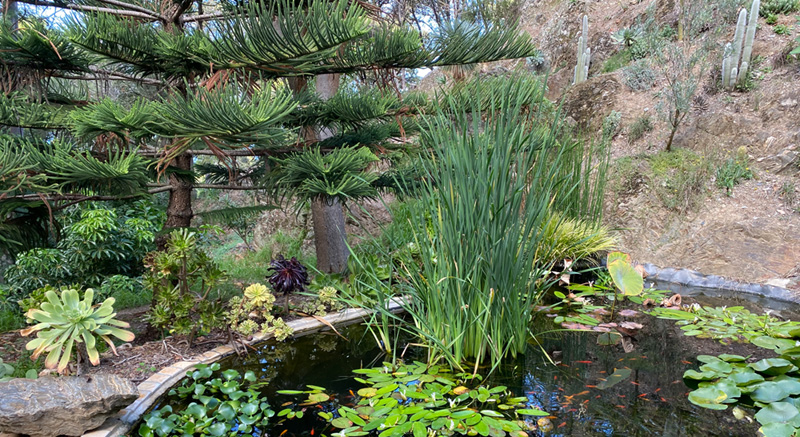 Our afternoon visit to the private Jardin exotique du Château Noir was a big surprise for me. I've never met anyone outside a botanic garden who is so enthusiastic about cycads. I too appreciate spiky plants, so was very happy to see someone who was taking time to find different species and create a cycad paradise.
Notre visite de l'après-midi au Jardin exotique privé du Château Noir a été une grande surprise pour moi. Je n'avais jamais rencontré quelqu'un en dehors d'un jardin botanique qui soit aussi enthousiaste à propos des cycadales. Moi aussi, j'apprécie les plantes épineuses, j'étais donc très heureuse de voir quelqu'un qui prenait le temps de dénicher différentes espèces et de créer un paradis de cycadées.
It was good to hear that the owner is also planning for the future and that the garden will become even more interesting once his cycad forest matures. The collection also includes several species of Araucaria, Cussonia, Cycas, Protea, Dracaena and Ficus, a Phoenix canariensis, a Sabal domingensis and plenty of cacti, all mixed together below some stunning Pinus pinea.
J'ai été heureux d'apprendre que le propriétaire planifie également l'avenir et que le jardin deviendra encore plus intéressant lorsque sa forêt de cycadacées aura atteint sa maturité. La collection comprend également plusieurs espèces d'Araucaria, de Cussonia, de Cycas, de Protea de Dracaena et de Ficus, un Phoenix canariensis, un Sabal domingensis et de nombreux cactus, le tout mélangé sous un étonnant Pinus pinea.
---
Text: Sandy Graham and Kevin Creed
Photos: Gill Clarke, Kevin Creed and Jardin du Réal