September 2010 – A visit to Château le Plaisir
Click on an image to enlarge it / Cliquez sur une image pour l'agrandir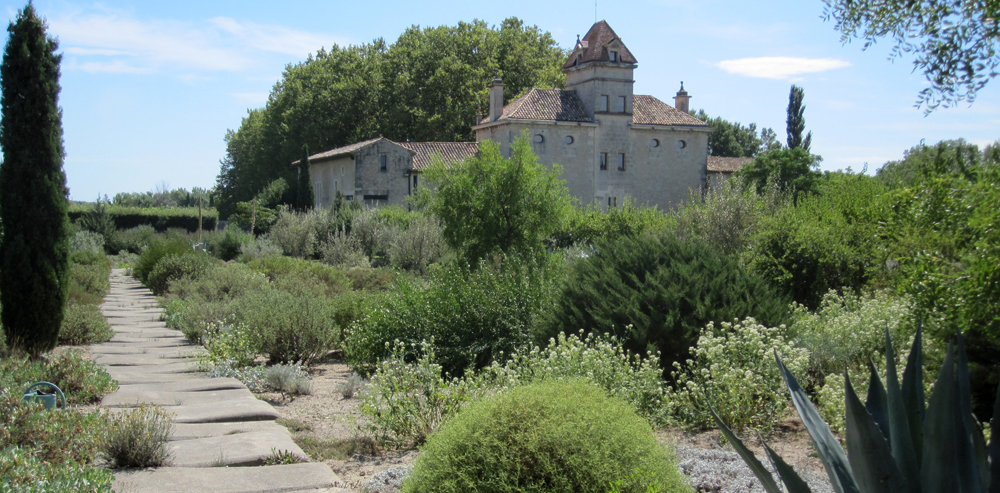 On a hot September afternoon 40 or so members had the pleasure of visiting the gardens of Château le Plaisir in Aramon, near Avignon.
Designed by lanscape designer, Pascal Cribier, in the 1990s for the Hollander family, the park is divided into differently themed gardens and has many modernist structured features. The first impression is of a traditional shaded courtyard with five rows of grand old Platanus trees and a drive leading to the house with a classical 18th-century façade. The walled promenoir also tells of times past – "an outdoor long gallery" comments one member. Then as we enter the landscaped park, a view of a tall chimney by the Rhone brings us back to the 20th century.
We see high, straight Quercus ilex hedges with gaps to peep through, a beautiful pergola, lush springy Zoysia grass, a children's play area winding through the santolina, the unfinished chess board with a lonely king and queen, and an outdoor theatre whose clipped Olea hedge has apparently caused controversy amongst local people.
By the pool house, we stop to admire the four weeping Sophora japonica, specially grafted in Italy for this project, and continue through a beautiful wisteria-covered walkway into the water garden, whose cool shade is much appreciated. The idea of growing free-standing wisteria is noted by some.
The scent of Clerodendrum trichotomum gives way to that of ripe figs as we move on to discover copses of Ligustrum and various fruit trees. Eventually we emerge into the dry garden with plants from Olivier Filippi and a path made of interesting concrete 'Roman' slabs.
Melia trees give shade to the small courtyard behind the house and a display of Hibiscus coccineus is much admired, as we stop to discuss the gaura and buxus meadow – at this time of year predominantly gaura!
The visit ends with drinks offered by the caretakers and Chantal reminds us that it is time to collect and send her seeds for the Seed Exchange. Many thanks to Christine and Sandra for organising this visit.
Text: Mavis Mercoiret
Photos: Mavis Mercoiret, Hilary Ivey and Anthony Daniels