September / septembre 2015
Visits to Les Cèdres and the Villa Ephrussi de Rothschild, Saint-Jean-Cap-Ferrat
Click on an image to enlarge it / Cliquez sur une image pour l'agrandir
Les Cèdres
Les Cèdres, a private villa in 14 hectares of gardens on Cap Ferrat, was bought in 1924 by Alexandre Marnier-Lapostolle, a passionate plant collector, who turned it into an exotic botanical garden with an arboretum and 25 heated glass houses. Today the garden contains more than 14,000 species of tropical plants, a palm grove, and collections of bamboos, succulents and epiphytes.
Les Cèdres est un jardin botanique privé, situé dans le parc d'une propriété de 14 hectares acquise en 1924 par Alexandre Marnier-Lapostolle. Aujourd'hui, il contient plus de 14 000 espèces de plantes méditerranéennes et tropicales, une palmeraie, et des collections de bambous, des plantes succulentes et des épiphytes.
Despite dire warnings of stormy weather from Météo France, we gathered at 10.30 at the Villa Ephrussi car park under a warm late-summer sun. Armed with sunscreen and mosquito repellent, a wise precaution as it turned out, we then set off for the ten-minute walk to Les Cèdres.Here we were met by the amiable head gardener, Philippe, for our guided tour, for which we had had to apply in writing, with our horticultural credentials of course, several months before. We soon realized that with less than two hours at our disposal we were only going to see a tiny area of the vast estate.
Malgré une météo peu prometteuse (alerte orange etc.), nous nous sommes retrouvés à 10.30 dans le parking de la Villa Ephrussi sous un beau ciel ensoleillé de fin d'été. Munis de crème solaire et de répulsifs anti-moustiques, sage précaution en fait car le tigre s'est montré particulièrement agressif dans les zones ombragées, nous partîmes à pied en direction de la villa Les Cèdres. A l'arrivée, notre guide Philippe nous attendait pour notre visite guidée, que nous avions dû réserver plusieurs mois à l'avance, par écrit et en montrant patte blanche. Ici on ne laisse pas entrer n'importe qui! Nous nous sommes très vite rendu compte que dans les deux heures à notre disposition nous ne verrions qu'une infime partie de ce vaste jardin.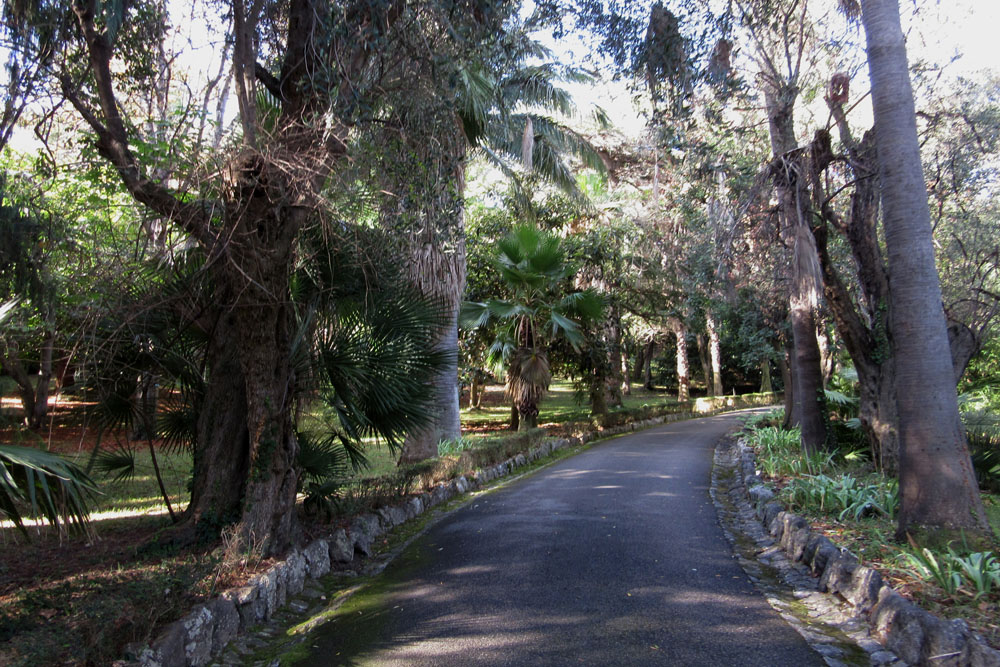 Philippe led us up the shady tree-lined drive, shaded by podocarpus, a variety of palms, notably Washingtonia robusta and W. filifera, Jubaea chilensis, the Chilean wine palm with its massive trunk, the Wollemi pine (Wollemia nobilis, once believed extinct until rediscovered alive and well in Australia in 1993 and now being replanted worldwide), the aptly named Osmanthus fragrantissima, several carob trees (Ceratonia siliqua), the beans of which have been used as a chocolate substitute as well as being the origin of the carat, Araucaria bidwillii, a huge Cupressus cashmeriana and Citrus aurantium var. myrtifolia, used in Italy to make the bitter-sweet fizzy drink Chinotto), before emerging beside the magnificent pool.
En écoutant le récit des origines du jardin raconté par notre guide, nous montions un chemin ombragé bordé de podocarpus, diverses espèces de palmiers (Washingtonia robusta et W. filifera), Jubaea chilensi, avec son large stipe trapu, le pin wollémi (Wollemia nobilis), que l'on croyait disparu jusqu'en 1993 lorsqu'il fut redécouvert fortuitement dans le Queensland, le bien nommé Osmanthus fragrantissima, plusieurs caroubiers (Ceratonia siliqua), dont les fèves, prétendument à l'origine du carat, ont été utilisées pour fabriquer un succédané du chocolat, Araucaria bidwilli, un énorme Cupressus cashmeriana, et Citrus aurantium var. myrtifolia, dont les fruits, très amers et impropres à la consommation, sont à la base d'une boisson sucrée italienne, le chino ou chinotto.
This was covered in water lilies, lotus, papyrus (Cyperus papyrus) and other aquatic plants, the tenderest species of which, Phillippe explained, are carefully lifted out of the water in November and placed in shelter for the winter.
A la sortie de la forêt nous nous nous trouvions soudain sur les berges d'un étang d'une grande et spectaculaire beauté, couvert de nymphéas, lotus, papyrus et bien d'autres plantes aquatiques, dont les plus gélives seront mises à l'abri à la fin de l'automne, une simple précaution sans doute car les gelées sont rares ici.
Formality took over as we approached the house along a path lined with Bulbine alooides, ophiopogon, aeoniums, including the striking dark-leaved Aeonium arboreum var. atropurpureum and the even more astonishing cultivar, 'Zwartkop', almost totally black as its Afrikaaner name ('Black Head') suggests. Swerving to the right we paused to admire a dense area of bamboo, mostly Dendrocalamus. More exotic specimens awaited in the approach to the extensive glasshouses, not least Dutchman's pipe, Aristolochia gigantea.
Lorsqu'on s'approche de la villa, le formalisme réaffirme ses droits sur un chemin bordé de Bulbine alooides, ophiopogon, aeoniums, notamment Aeonium arboreum var. atropurpureum avec son étonnant feuillage vert foncé et le remarquable cultivar 'Zwartkop' presque noir, comme indique son nom afrikaner ('Tête noire'). En virant à droite, nous nous sommes arrêtés pour admirer un bosquet dense de bambous, en grande partie des dendrocalamus. Aux abords des nombreuses serres, encore plus d'espèces exotiques nous attendaient, en particulier Aristolochia gigantea.
After a brief and rather hurried tour of the glasshouses, pausing to admire Ficus auriculata and Hibiscus schizopetalus amongst others, we regretfully had to do a U-turn and head for the exit, having been assured (apparently we made a good impression!) that we could and should return, possibly in spring, to discover and enjoy more of the delights that this vast property has to offer the fortunate visitor.
Après une visite, assez rapide et précipitée hélas, des serres où on nous fait découvrir, entre autres merveilles, Ficus auriculata et Hibiscus schizopetalus, nous sommes contraints, avec regret, de faire demi-tour et de nous diriger vers la sortie, mais non sans avoir reçu l'assurance de notre guide que nous pourrions retourner, peut-être au printemps, pour découvrir les autres richesses botaniques que recèle ce jardin tout à fait extraordinaire.
Villa Ephrussi de Rothschild
The villa and gardens were created by the Baroness Béatrice Ephrussi de Rothschild between 1906 and 1912. She died in 1934, leaving the property to the Académie des Beaux-Arts. The present design of the gardens owes much to the designer Louis Marchand who restored them in 1934 and again in 1945.
La villa et les jardins ont été créés par la baronne Béatrice Ephrussi de Rothschild entre 1906 et 1912. Elle est décédée en 1934, et a légué la propriété á l'Académie des Beaux-Arts. La réalisation actuelle des jardins doit beaucoup au paysagiste Louis Marchand qui les a restaurés en 1934 et en 1945.
After a light but tasty lunch in the elegant salon de thé, our party split up into small groups, some of them remaining in the villa to learn more about Béatrice and her collections of furniture, china, tapestries and sculptures (excellent autoguide available in English and in no less than eight other languages), others to explore the thematic gardens (nine in all).
Après un déjeuner léger mais fort goûteux pris dans l'élégant salon de thé de cette splendide villa de la belle époque, notre groupe se divise en deux, les uns restant dans la maison pour découvrir l'histoire de Béatrice et ses collections de meubles, de faïences, de tapisseries et de sculptures, à l'aide de l'audio guide (disponible en neuf langues, l'accueil du touriste est bien organisé ici!), alors que les autres sortent pour explorer le jardin à thèmes (neuf en tout).
On leaving the house, the visitor, after admiring the lady of the night, (Cestrum nocturnum) marvellously fragrant in late summer, even in the daytime, comes first upon the delightful Spanish garden, with its begonia-lined pool, brugmansias and papyrus.
En sortant de la villa, on passe d'abord devant un galant de nuit (Cestrum nocturnum), merveilleusement aromatique même dans la journée, et on entre tout d'abord dans le très joli jardin espagnol, avec son bassin bordé de bégonias, et sa végétation luxuriante composée de brugmansias et de papyrus.
Then one has to choose one of the paths leading south along the west-facing flank of the garden, overlooking the bay of Villefranche. A small and charming Japanese garden in deep shade is followed by the contrastingly bright and sunny succulent garden with its abundance of prickly pear, aloes and cacti.
The beautifully laid-out rose garden then beckons.
Ensuite on doit choisir l'un des trois chemins qui mènent le long du flanc occidental de la propriété, surplombant la baie de Villefranche. L'un de ces chemins conduit vers un charmant jardin japonais, très ombragé d'où on émerge, en plein soleil évidemment, dans le jardin des succulentes (aloès, figuiers de Barbarie, cactées).

On entre enfin dans la roseraie.
We climbed up to the Temple to Love to enjoy the breath-taking view down over the pool towards the villa.
Avec ses multiples variétés (environ une centaine), elle se déploie autour d'un temple hexagonal d'où on jouit d'une vue splendide sur le grand bassin central et le jardin à la française bordé de palmiers et d'agrumes.
Every twenty minutes the fountains burst into life to the sound of Eine Kleine Nachtmusik. Kitschy maybe, like the begonias and the petunia beds, but nobody seemed to mind.
Toutes les vingt minutes les fontaines s'activent, au son de la «petite musique de nuit». Un peu kitsch tout cela, tout comme les bégonias et les pétunias, mais personne ne s'en plaint.
All in all an extremely graceful and meticulously tended property, with a pleasing mix of the formal and the (almost) wild, and, like so many gardens on this favoured stretch of the Riviera, very much a garden for all seasons.
Il s'agit d'un jardin d'une grande élégance, méticuleusement bien entretenu, un plaisir pour les yeux de l'esthète qui apprécie la symétrie et les belles proportions d'un jardin fleuri classique avec son mélange du formel et du (presque) sauvage, et pour ceux du botaniste grâce à la présence de nombreuses espèces gélives que l'on ne peut observer en France (en pleine terre) que dans ce microclimat favorisé azuréen. Un véritable jardin des quatre saisons.
English and French text: Martin Smith
Photos: Christine Daniels