Visite du Droguier de la faculté de pharmacie, Université de Montpellier
February / février 2023
Click on the images to enlarge them / Cliquez sur les images pour les agrandir
On this winter's day around fifteen members of MGF and Hortus visited the faculty of pharmacy at the University of Montpellier. Monsieur Eric Letessier, curator of the pharmacy, and Madame Marion, professor emeritus, and friend of Brigitte Frérebeau, welcomed us at this institution which was inaugurated in 1967.
Nous étions une quinzaine de membres MGF/Hortus en cette journée hivernale pour nous rendre à la faculté de pharmacie de Montpellier. Monsieur Éric Letessier, conservateur du droguier ainsi que Madame Marion, professeur émérite et amie de Brigitte Frérebeau, nous ont accueillis dans cette institution inaugurée en 1967.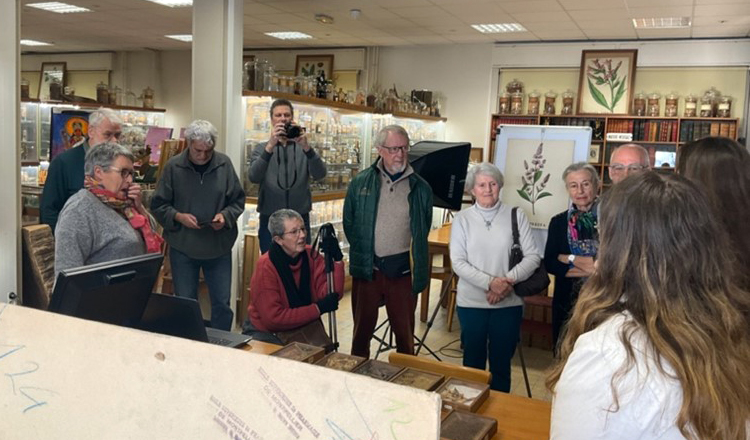 They began by telling us about the foundation of the dispensary, in 1588, by Bernardin II Duranc, an apothecary from Montpellier, who decided to set up a shop to sell a selection of his preparations. The idea was taken up in 1633 by the University, which officially created its own 'droguier' in the Faculty of Medicine.
Ils nous ont d'abord parlé de la fondation du droguier, en 1588, par Bernardin II Duranc, apothicaire montpelliérain, qui décide de constituer dans sa boutique un échantillonnage de ses préparations. L'idée est reprise en 1633 par l'Université qui crée officiellement son propre droguier à la Faculté de Médecine.
The word 'droguier' originally referred to the box or cabinet containing the drugs or medicines. By extension, it refers to a collection of medicines, arranged in a methodical order.
Le mot droguier, au départ, se réfère à la boite ou le meuble contenant les drogues ou médicaments. Par extension, on veut parler de la collection des médicaments simples, rangés dans un ordre méthodique.
The apothecary collection was developed at the beginning of the 19th century. Mainly made up of plant-based medicines, it owes its richness to the professors of medical subjects and pharmacognosy who succeeded one another as head of the apothecary, to exchanges between different pharmacy schools and to donations.
Le droguier de Pharmacie se développe dès le début du XIXème siècle. Essentiellement constitué de drogues végétales, il doit sa richesse aux professeurs de matière médicale et de pharmacognosie qui se sont succédés à cette chaire, à des échanges entre différentes écoles de pharmacie et à des dons.
The droguier has retained glass cabinets and jars from the original facility and today has a unique collection of around 15,000 items, second only to the one in Paris. The bottles and jars of different sizes are displayed in glass display cases on the four walls of the 250 m2 premises. We also saw smaller display cases dedicated to drugs from different countries or continents, such as Africa, China, Oceania, etc.
Le Droguier conserve des armoires et des bocaux en verre du local d'origine et présente aujourd'hui une collection unique regroupant environ 15 000 échantillons, ce qui le place au second rang après celui de Paris. Les pots de différentes tailles sont visibles car présentés dans des vitrines panoramiques habillant les quatre murs de ce local de 250 m2. Nous avons vu également de jolies petites vitrines de présentation dédiées à des drogues venant de différents pays ou continents, comme l'Afrique, la Chine, l'Océanie, etc.
Thanks to the tenacity of volunteer teachers such as Mme Marion, the entire collection was registered as a Historic Monument on 20 November 2009.
Grâce à la pugnacité de professeurs bénévoles tels Mme Marion, l'ensemble de cette collection a été inscrit au titre des Monuments Historiques le 20 novembre 2009.
Next, several 2nd, 3rd and 4th year students presented their work to us, which made us realise how important this place is for their studies. Here they can take advantage of practical work on new teaching topics such as Health products of natural origin, Complementary medicine, Aromatherapy (now used more and more in hospitals) and the Valorisation of agro resources. The droguier allows for the setting up and completion of both introductory research and masters courses. We were moved by the passion that drove these young students, especially since their financial grants are quite low. They showed us how they digitise photos of plants received from Africa with a simple scanner. Of course, a 3D scanner would be welcome, but the current economic situation does not allow it.
Ensuite, plusieurs étudiants en 2nde, 3ème et 4ème année nous ont présentés leurs travaux. Nous nous rendons compte de l'importance que revêt cet endroit pour leurs études. Ainsi, ils peuvent profitent de travaux pratiques et de la création de nouvelles Unités d'Enseignement, telles les Produits de Santé d'Origine Naturelle et Médecines Complémentaires, l'Aromathérapie (de plus en plus utilisée maintenant dans les hôpitaux), la Valorisation des Agro ressources, etc. Le Droguier permet à la fois la mise en place de masters et de stages d'initiation à la recherche ainsi que la réalisation de thèses. La passion qui anime ces jeunes étudiants nous a ému, d'autant plus que les moyens financiers accordés sont assez maigres. Ils nous ont montré comment ils numérisent des photos de végétaux reçus d'Afrique avec un scanner tout simple. Bien sur un scanner en 3D serait le bienvenu, mais, la conjoncture économique actuelle ne le permet pas.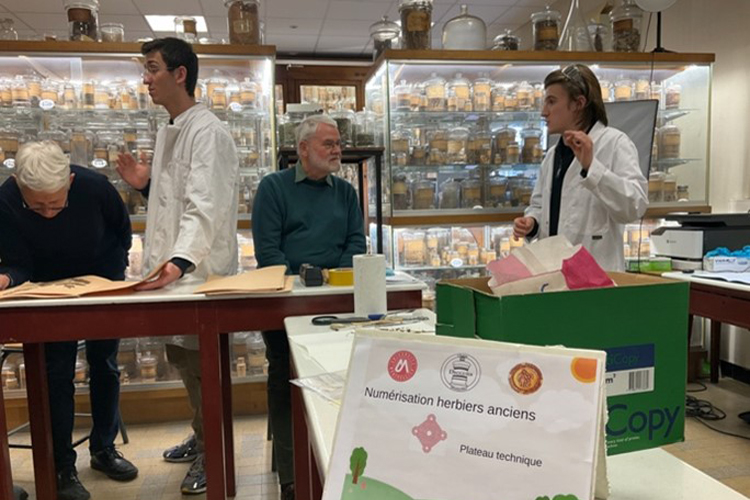 This is also a favoured place for researchers who, thanks to its existence, do not need to make expensive trips to distant countries. They can identify previously unknown medicines from traditional pharmacopoeias on various continents or carry out specific studies on subjects such as Egyptology, forensic medicine or drug addiction.
C'est également un lieu privilégié pour les chercheurs qui, grâce à cela, n'ont pas besoin de faire de voyages couteux et lointains. Ils peuvent déterminer ainsi des drogues inconnues provenant de pharmacopées traditionnelles de divers continents, ou faire des études spécifiques en égyptologie, en médecine légale ou en toxicomanie, etc.
For the record, the droguier is also a film location for the television series 'Tandem'. But above all, it is an exceptional cultural heritage of which we were previously unaware. All of us were amazed and delighted by this visit.
Pour la petite histoire c'est aussi un lieu de tournage pour des séries télévisées (Tandem). Mais c'est surtout un patrimoine culturel exceptionnel dont nous ignorions presque tous l'existence jusqu'à ce jour. Tout le monde était émerveillé et ravi de cette visite.
---
Texte et photos : Chantal Guiraud