Environmental Gardening / Jardiner pour l'environnement
Decline in insect population
Déclin de la population d'insectes
A paper published in Biological Conservation* warns that 40% of the world's insect species could become extinct within a few decades. 73 historical reports of insect declines were reviewed and the drivers assessed. In order of importance they were:
Un article publié dans Biological Conservation * alerte sur le fait que 40% des espèces d'insectes dans le monde pourraient disparaître dans quelques décennies. 73 rapports historiques de déclins d'insectes ont été examinés et les facteurs évalués. Par ordre d'importance, ils étaient :
habitat loss, urbanisation and intensive agriculture,
pollution, mainly that by synthetic pesticides and fertilisers,
biological factors, including pathogens and introduced species,
climate change particularly in tropical zones.
perte d'habitat, urbanisation et agriculture intensive,
la pollution, principalement par les pesticides de synthèse et les engrais,
facteurs biologiques, y compris les agents pathogènes et les espèces introduites,
le changement climatique, en particulier dans les zones tropicales.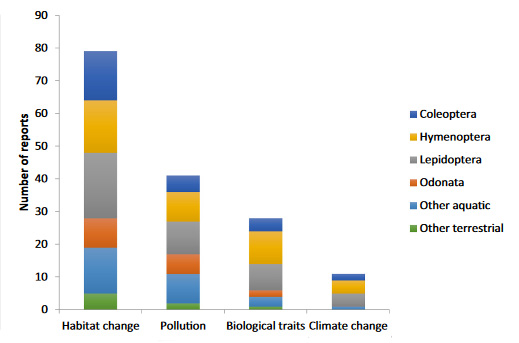 Bees, ants and beetles are disappearing eight times faster than mammals, birds or reptiles. Butterflies, moths, wasps, bees, hover flies and dung beetles appear to be most affected. Aquatic species such as dragonflies, stoneflies, caddisflies and mayflies have already lost many species.
Les abeilles, les fourmis et les coléoptères disparaissent huit fois plus rapidement que les mammifères, les oiseaux ou les reptiles. Les papillons, les papillons de nuit, les guêpes, les abeilles, les syrphes et les bousiers semblent être les plus touchés. Les espèces aquatiques telles que les libellules, les plécoptères, les trichoptères et les éphémères ont déjà perdu de nombreuses espèces.
The report explains that loss of pollinators threatens crop production and survival of thousands of plant species that depend on pollination. Insect declines threaten the whole food chain, both terrestrial and aquatic. The total mass of insects is falling by a precipitous 2.5% a year, meaning that in just ten years there would be a quarter fewer insects in the world.
Le rapport explique que la perte de pollinisateurs menace la production agricole et la survie de milliers d'espèces de plantes qui dépendent de la pollinisation. Le déclin des insectes menace toute la chaîne alimentaire, terrestre et aquatique. La masse totale d'insectes diminue de 2,5% par an, ce qui signifie qu'en dix ans à peine, il y aura un quart en moins d'insectes dans le monde.
The review also finds that a small number of species are likely to be able to adapt to changing conditions. For example, "Fast-breeding pest insects (and presumably non-pest species) will probably thrive because of the warmer conditions."
L'analyse a également révélé que seul un petit nombre d'espèces seraient probablement en mesure de s'adapter aux conditions en évolution. Par exemple, «Les insectes nuisibles à reproduction rapide (et probablement des espèces non nuisibles) vont probablement prospérer en raison des conditions plus chaudes.»
One of the authors, Sánchez-Bayo, said the review is not alarmist: "We wanted to really wake people up. When you consider that 80% of biomass of insects has disappeared in 25-30 years, it is a big concern." The paper concludes: "A re-thinking of current agricultural practices, in particular a serious reduction in pesticide usage and its substitution with more sustainable, ecologically-based practices, is urgently needed to slow or reverse current trends."
L'un des auteurs, Sánchez-Bayo, a déclaré que la critique n'était pas alarmiste : "Nous voulions vraiment réveiller les gens. Considérant que 80% de la biomasse d'insectes a disparu en 25-30 ans, c'est un gros problème". Le document conclut: "Repenser les pratiques agricoles actuelles, en particulier une réduction importante de l'utilisation de pesticides et leur remplacement par des pratiques plus durables et écologiques, est urgent afin de ralentir ou d'inverser les tendances actuelles. "
* Francisco Sánchez-Bayo and Kris A.G. Wyckhuys Worldwide decline of the entomofauna: A review of its drivers.
Biological Conservation Volume 232 April 2019 pp. 8-27
Text: David Bracey
Traduction en français: Roland Leclercq