Plants / Plantes
Autumn Colour / Couleurs d'automne
Click on the images to enlarge them / Cliquez sur les images pour les agrandir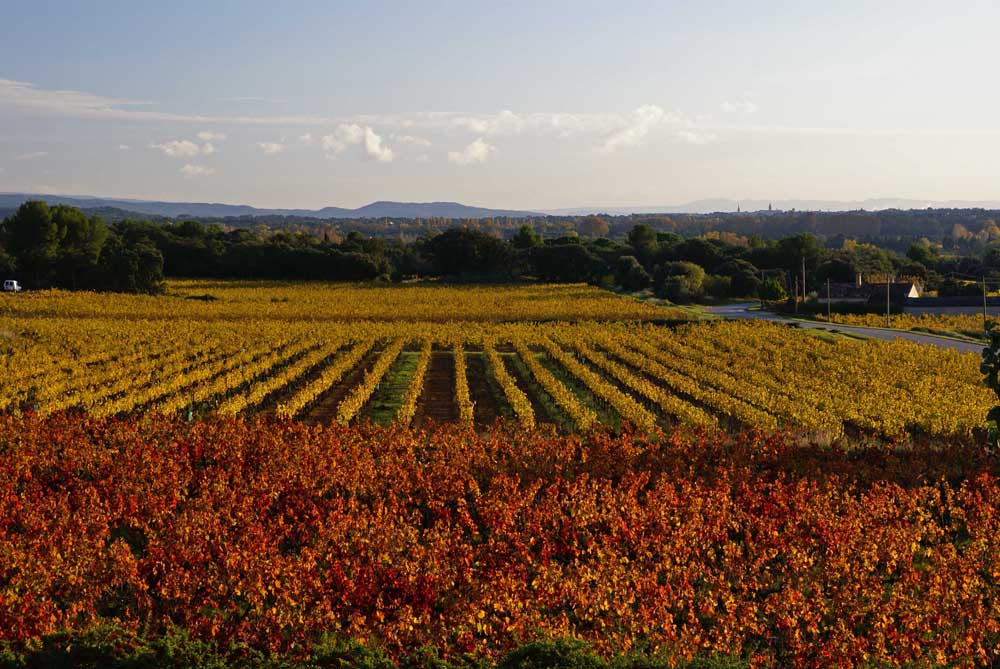 We tend to think that the best autumn colour is found in climates colder than those found in the Mediterranean Basin. However this year autumn colour in the Gard has been exceptional. There is a planting of Pistacia terebinthus at the Pont du Gard which is now maturing with plants at least 4 – 5 m tall. They are spectacular with red-hot flaming colours. Unfortunately I have been unable to find parking close enough which would allow me to photograph them.
On a tendance à penser que les meilleures couleurs automnales se trouvent dans des zones à climat plus froid que celui du bassin méditerranéen. Pourtant cette année les couleurs automnales dans le Gard ont été exceptionnelles. Au Pont du Gard se trouve une plantation de Pistacia terebinthus qui arrive à maturité et dont les arbres ont au moins 4 à 5 m de hauteur. Leur couleur rouge ardent flamboyant est magnifique. Malheureusement, je n'ai pas pu me garer assez près pour me permettre de prendre une photo
The kaki tree Diospyros kaki never fails to impress. Dark brown to orange foliage with hanging orange persimmon fruits to add winter interest. The smoke tree Cotinus coggygria is another autumn winner with leaves turning red brown to orange.


Le plaqueminier Diospyros kaki est toujours impressionnant. Son feuillage qui varie de brun foncé à orange et ses fruits pendants de couleur orange égayent l'hiver. Egalement sensationnel en hiver est l'arbre à perruque Cotinus coggygria, dont les feuilles virent du brun-rouge à orange.
The wild plant Euonymus europaeus, or spindle tree, which is the overwintering host for many aphid species, turns red at this time of the year. It is rarely planted in the garden. Euonymus alatus is smaller, with vivid red leaves.
Les feuilles de l'arbuste sauvage Euonymus europaeus, ou fusain d'Europe, virent au rouge en cette saison. Il héberge de nombreuses espèces de puceron pendant l'hiver. Il est rare de le trouver dans les jardins. Euonymus alatus est plus petit, avec des feuilles rouge vif.
Other plants for autumn colour include many of the variegated elaeagnus species. Other favourites of mine are: Nandina domestica, one of the few plants with twelve months' interest: the creeping Ceratostigma plumbaginoides, with blue flowers; and the versatile Abelia grandiflora.
De nombreuses espèces panachées d'élaeagnus nous offrent de belles couleurs en automne. Parmi mes autres plantes préférées se trouvent: Nandina domestica qui présente de l'intérêt pendant toute l'année : le rampant Ceratostigma plumbaginoides aux fleurs bleues; et Abelia grandiflora dont la versatilité n'est plus à prouver.
Cotoneasters and pyracanthas are a riot of red berries this year.
Les cotonéasters et les pyracanthas nous offrent une débauche de couleurs cette année.
But what causes autumn colours? As days shorten and temperatures drop the various green chlorophylls in the leaf begin to metabolise to coloured pigments such as red anthocyanins, orange beta-carotene and yellow xanthophylls. This produces the colour change. In the North it may be a frost which triggers the colour change but frosts are rare at this time of the year in the Gard. Rather I suspect that this year it is the mild temperatures and the slow metabolism which have lasted over several weeks which is exaggerating autumn colours.
Mais quelle est la cause de ces couleurs automnales ? Quand les jours se raccourcissent et les températures chutent, les différentes chlorophylles vertes dans chaque feuille commencent à se transformer par le métabolisme en pigments colorés, tels que les anthocyanes rouges, le bêta-carotène orange et les xanthophylles jaunes. Le changement de couleur en est le résultat. Au Nord, c'est parfois une gelée qui déclenche ce changement de couleur. Mais les gelées sont rares dans le Gard à cette saison. Donc je soupçonne que cette année, les couleurs d'automne ont été amplifiées par les températures relativement élevées et la lenteur du métabolisme, qui ont duré plusieurs semaines.
Text / texte: David Bracey
Photos: David Bracey / MGF photo library
I agree with David that we don't talk enough about the beauty of autumn leaves and berries in Mediterranean France. The countryside in the Vaucluse glows in November as the leaves on the vines go through their colour changes. The photograph at the top of this article, taken by Guy Cheeseman, is the view from his terrace with the spires of Carpentras and the Montagne du Lubéron in the background.
Je suis d'accord avec David que nous ne soulignons pas suffisamment la beauté du feuillage et des baies en automne en France méditerranéenne. Le paysage de la Vaucluse flamboie en novembre, grâce au changement de couleur des feuilles des vignes. La photo en haut de cet article, prise par Guy Cheeseman, montre le panorama devant sa terrasse, avec les clochers de Carpentras et la Montagne du Lubéron en arrière-plan.
In the first picture below, taken in my garden at the end of October, the colours of Cotinus coggygria 'Grace' zing out from the surrounding greens and greys. In the second picture, the trees with red foliage are Lagerstroemia indica. The shrub with lime green leaves is a just-starting-to-turn Punica granatum.
La première des deux photos ci-dessous, prise dans mon jardin à la fin d'octobre, montre les couleurs éclatantes de Cotinus coggyria 'Grace' parmi les gris et les verts environnants. Dans la deuxième photo, c'est les Lagerstroemia indica qui montrent leur feuillage rouge. L'arbuste aux feuilles vert jaune est un Punica granatum sur le point de changer de couleur.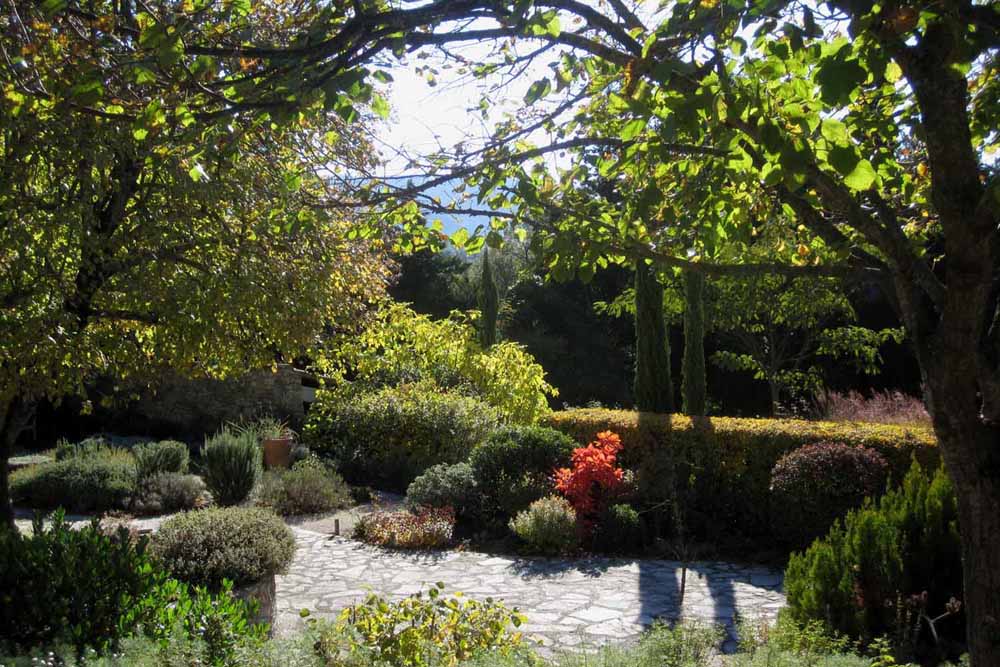 Punica granatum, the pomegranate bush, also provides a great display of colourful fruit, first set against a background of leaves, and later in the year, baubles on naked branches.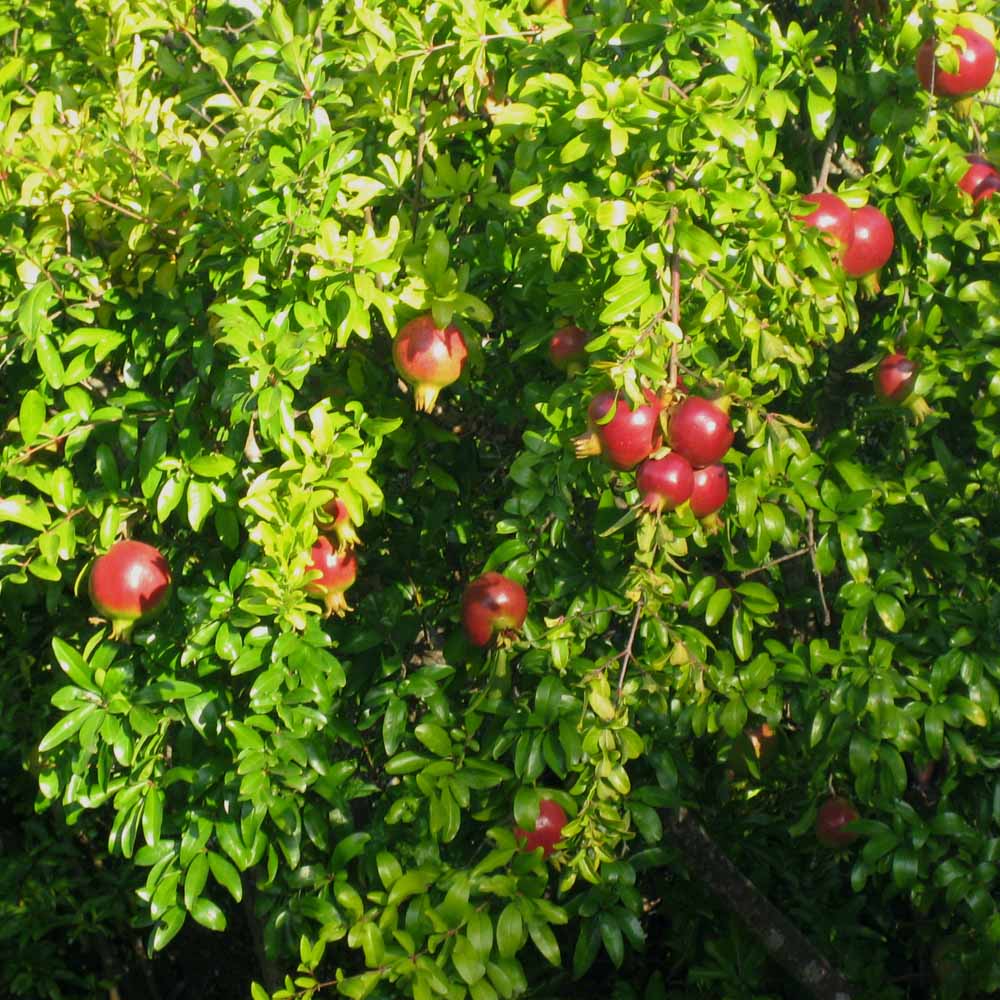 Other colourful autumn notes spotted in Provençal gardens: the red leaves of climber Parthenocissus quinquefolia toning well with the flowers of Epilobium canum and Salvia microphylla in Guy and Mairi Cheeseman's garden; and the fern-like orange leaves of Rhus typhina 'Dissecta' at La Louve in Bonnieux.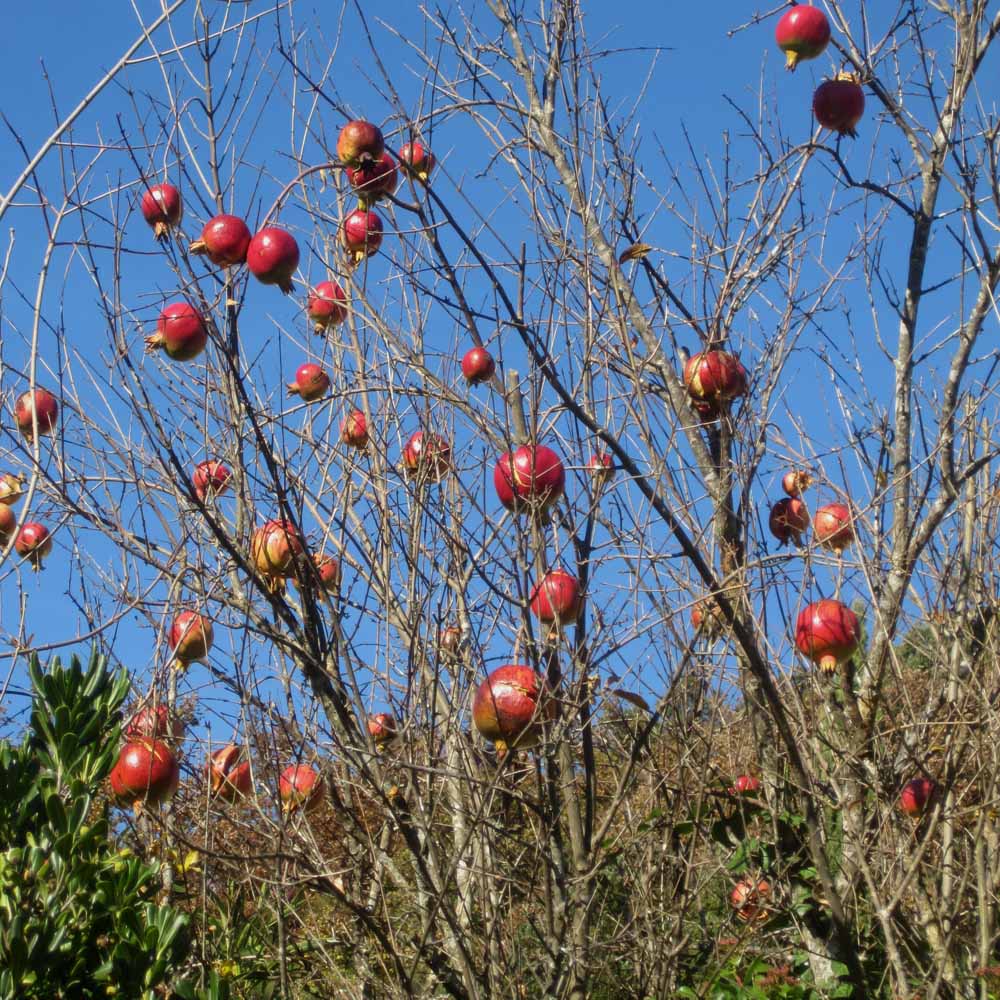 Les jardins provençaux nous offrent d'autres variations sur les couleurs : les feuilles rouges du grimpant Parthenocissus quinquefolia qui s'harmonisent bien avec les fleurs d'Epilobium canum et de Salvia microphylla dans le jardin de Guy et Mairi Cheeseman ; et les feuilles oranges, semblables à celles de la fougère, de Rhus typhina 'Dissecta' à La Louve à Bonnieux.
Deciduous trees and shrubs taking on autumn colour in my garden now are: Acer monspessulanum, Acer campestre, Amelanchier canadensis, Pistacia terebinthus, Sorbus domestica and Abelia x grandiflora.
Des arbres et arbustes à feuilles caduques qui se parent de couleur automnale dans mon jardin en ce moment : Acer monspessulanum, Acer campestre, Amelanchier canadensis, Pistacia terebinthus, Sorbus domestica et Abelia x grandiflora.
Heteromeles arbutifolia is a shrub that deserves to be better known. It comes from California and is winter and drought hardy here, with white flowers in May and red fruits in autumn until the blackbirds finish them off! Zanthoxylum simulans, the Szechuan Pepper, needs some summer irrigation but is an interesting plant. The peppercorns are the seed casing rather than the actual seed.
Heteromeles arbutifolia est un arbuste qui mérite d'être mieux connu. Il provient de la Californie, est résistant au froid et à la sécheresse et se pare de fleurs blanches en mai et de fruits rouges en automne, les derniers très prisés des merles! Zanthoxylum simulans, le poivrier du Sichuan, a besoin d'un peu d'arrosage en été mais a beaucoup d'intérêt pour les jardiniers. On utilise seulement les fruits débarrassés de leurs graines noires.
Autumn colour also comes from plants like sages, still in flower after a long flowering season and plants which come into flower in November such as Tagetes lemmonii and Dahlia imperialis, though these flowers will disappear after the first severe frost. Then we will be left with fruits and berries and winter flowering plants such as Clematis cirrhosa.
Des couleurs automnales proviennent également de plantes telles que les sauges, toujours en fleurs après une longue floraison, et Tagetes lemmonii et Dahlia imperialis, qui commencent à fleurir en novembre et continuent jusqu'aux premières gelées sévères. Après il nous restera les fruits et les baies et en plus les plantes qui s'épanouissent en hiver, comme le Clematis cirrhosa.