Plants / Plantes
Salvias suitable for Mediterranean gardens / Les sauges pour climat méditerranéen
Click on an image to enlarge it / Cliquez sur une image pour l'agrandir
Notes from a lecture by Frédéric Prévot* / Conclusions d'un exposé par Frédéric Prévot*
There are over 900 species and cultivars of salvias and they can be found growing wild in almost all the countries of the world, except Australia. Salvias are most prevalent in Mexico and Central America, central Asia and the Mediterranean Basin.
On trouve plus de 900 variétés de sauges dans le monde entier, sauf en Australie, le plus en Amérique centrale et Mexique, Asie centrale et Turquie et le bassin méditerranéen.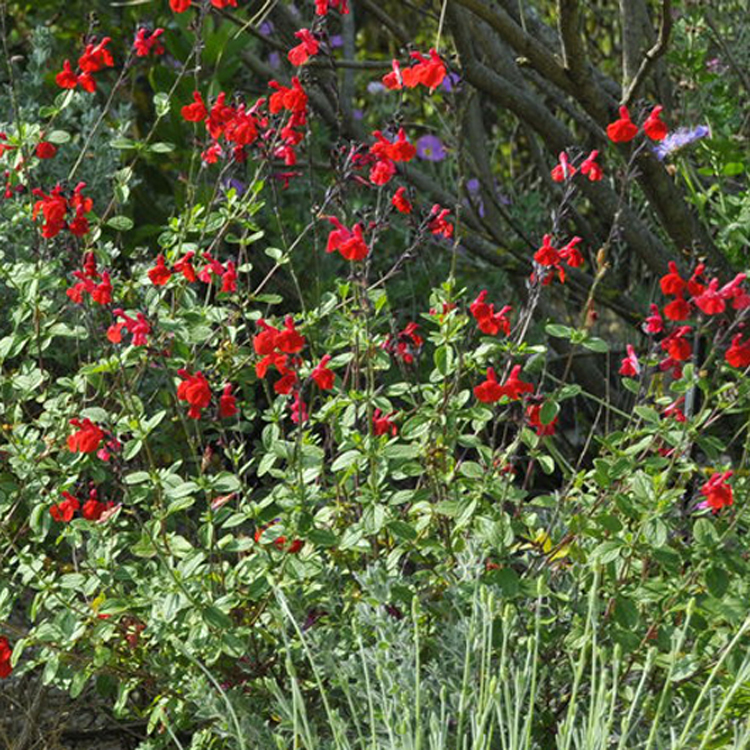 Those suited to a Mediterranean climate need a well-drained stony or sandy soil, any ph, which stays dry in both summer and winter. Salvias prefer full sun, but some species, like Salvia microphylla, will flower in half-shade. They mix well with other plants and, apart from those native to California, which do not like any water at all, are easy to grow in the Midi. Certain species can grow tall and have a tendency to flop over – these can have their stems shortened when they are about 30 cm tall to reduce their height at flowering time.
Propagation methods:
by division in spring or early autumn,
by cuttings taken from the apex of the plant in February. Keep the young plants moist and warm – around 23°C. Frédéric uses a hormone powder to inhibit top growth and encourage root development.
by sowing seeds – sow seeds very soon after they have been gathered, otherwise they become dormant and difficult to use.
Which species to choose?
Most salvia varieties suited to Languedoc and Provence have flowers in pale colours. Varieties from Africa and California (apart from those native to desert areas) are attractive but may not be sufficiently hardy.
Frédéric recommended a number of salvias as being especially suitable for Mediterranean France and these can be found in the Salvias plant list. All are hardy to -15°C unless indicated.
* from the specialist nursery « Les Senteurs du Quercy»
Text: Chantal Maurice
Pour cultiver les sauges dans un climat méditerranéen, il faut un sol drainé, sec en été et en hiver, comme pour les cistes et les lavandes, un sol caillouteux ou sableux, le ph n'est pas très important, une bonne exposition au soleil, même si Salvia microphylla fleurit à mi-ombre dans le midi. Elles ne souffrent pas trop de la concurrence des autres plantes et ne sont pas très difficiles de culture sauf celles qui viennent de Californie. Pour que certaines sauges ne montent pas trop et se ramifient, les pincer plusieurs fois lorsqu'elles ont 30 cm de haut, ainsi, elles sont plus jolies et se couchent moins.
Multiplication :
Division comme pour les herbacées en général au printemps ou début septembre.
Bouturage en février de préférence ; maintenir sur couche chaude (23°C est l'idéal) et conserver l'humidité. Partie à sélectionner : apex (le sommet de la plante), pas trop de feuillage. Frédéric emploie une poudre d'hormones pour décourager la repousse et stimuler l'apparition des racines.
Semis – une graine fraîche est importante, dès la récolte, sinon les graines se mettent en dormance et c'est très difficile de la lever.
Les variétés
La plupart des espèces méditerranéennes sauvages sont de couleurs claires. Les sauges africaines ne sont pas très rustiques, dommage car elles sont jolies ! Les californiennes ne sont pas très rustiques sauf celles du désert californien.
Frédéric a suggéré un certain nombre de sauges comme particulièrement adaptées à la France méditerranéenne. Celles-ci peuvent être trouvées dans la liste des sauges recommandées. Tous sont rustiques jusqu'à -15°C sauf indication contraire.
* de la pépinière de spécialiste « Les Senteurs du Quercy»
An article by Liz Runciman, published in the newsletter of the South Australia MGS
Un article de Liz Runciman, publié dans le bulletin de South Australia MGS
Text and Photographs: Liz Runciman