Plants / Plantes
Daucus: the carrot / la carotte
Click on an image to enlarge it / Cliquez sur une image pour l'agrandir
The April 2016 report in the 'Past Activities' section of this website describes the unusual flora on the Isles of Frioul and includes a photograph of Daucus gingidium, described as "carrot". The Daucus genera includes some forty annual and biennial species; the most important are Daucus carota, the wild carrot, D. glochidiatus, the Australian carrot and D. pusillus, the American wild carrot.
Dans la rubrique « Activités précédentes » du mois d'avril 2016 de MGF, on peut découvrir la flore peu commune des Îles du Frioul ainsi que la photo de Daucus gingidium, dénommée « carotte ». Le genre Daucus comprend une quarantaine d'espèces annuelles et bisannuelles ; les plus importantes sont Daucus carota, la carotte sauvage, D. glochidiatus, la carotte australienne et D. pusillus, la carotte sauvage américaine.
The wild carrot originated in Eastern Iran and was probably grown for its aromatic seeds and for medicinal use. Today it is found throughout the Mediterranean Basin, especially in coastal areas, much of western Asia and even in North America. Carrot seeds probably arrived in the USA in contaminated seed, possibly carried by the early colonialists. The cultivated carrot, Daucus carota subsp. sativus, which we grow today, was produced by breeders through a process of natural selection.
La carotte sauvage est originaire de l'Iran oriental et se cultivait probablement pour ses graines aromatiques et un usage médicinal. Aujourd'hui, on la trouve à travers tout le Bassin Méditerranéen et en particulier le long des côtes, l'Asie occidentale et même en Amérique du Nord. Les graines de carotte furent probablement importées aux USA par hasard, transportées peut-être par les premiers colons. La carotte cultivée aujourd'hui, Daucus carota subsp. sativus, fut introduite par des chercheurs grâce aux procédés de sélection naturelle.
It was Dutch breeders in the 17th century who began selecting for orange carrots. Orange carrots were common by the 18th century when the French breeder, Vilmorin, introduced the Chantenay and Nantes types which are still popular today. Carrots come in a bewildering range of sizes and colours including purple, black, white, yellow and red, targeted to suit modern tastes and cuisines.
Au XVIIe siècle, des producteurs hollandais commencèrent à sélectionner des carottes orange. Les carottes orange étaient communes au XVIIIe alors que le producteur français Vilmorin introduisait les variétés Chantenay et Nantes qui sont toujours cultivées aujourd'hui. On trouve une gamme ahurissante de carottes quant à leur taille ou leur couleur dont le pourpre, noir, blanc, jaune ou rouge, afin de satisfaire le goût actuel et la nouvelle cuisine.
Today the cultivated carrot comes in two distinctive types – the Asiatic, or anthocyanin carrot which can be purple or yellow,and the Western, or carotene carrot which can be orange, red or white.
Aujourd'hui, nous trouvons deux types différents de carottes – l'asiatique ou « carotte anthocyane » qui peut être pourpre ou jaune, et l'occidentale, ou « carotte carotène » qui est soit orange, rouge ou blanche.
Carrots are a cheap, nutritious, healthy and easily-digested vegetable containing some 5 -10% sugar as fructose or glucose, as well as beta-Carotene, the precursor of vitamin A. They can be used in salads, in savoury soups such as potage Crécy and in stews. Carrot cake is still a favourite among the British. In the Middle East and in Asia carrots may be used in sweet, sour and spicy dishes to accompany meats.
La carotte est un légume bon marché, nutritif, sain et facile à digérer contenant de 5 à 10% de sucre sous forme de fructose ou glucose, ainsi que le bêta-carotène, précurseur de la vitamine A. On peut en faire des salades, de délicieux potages tels que le potage Crécy et des ragouts. Le gâteau à la carotte est toujours un plat apprécié des Britanniques. Au Moyen-Orient et en Asie, les carottes servent à confectionner des plats aigre-doux et épicés en accompagnement de viandes.
Carrots have a relatively long growing season; anywhere from two to four months and may therefore take up a lot of garden space. Seeds are small and should be sown mixed with sand or peat. They do not compete well with weeds. Soil should be free of stones etc. To my mind, they should be grown only in tubs or deep containers where these aspects can be controlled and weeding made easy. Use short varieties. Compost should be deep, slightly acid with successive sowings made starting with early autumn rains. Root growth is best when soil temperatures are at least 15˚C, so some protection will be needed for late autumn sowings. Thin the crop as it grows and use the thinnings in salads.
Les carottes poussent sur une saison relativement longue, à savoir deux à quatre mois et occupent donc beaucoup d'espace au potager. Les graines sont toutes petites et doivent être semées en mélange avec du sable ou de la tourbe. Elles sont incapables de combattre efficacement les mauvaises herbes et la terre doit être indemne de pierres, etc. A mon avis, il faudrait uniquement les cultiver dans des containers profonds afin de faciliter le désherbage. Préférez des variétés courtes. Utilisez une grande quantité de compost légèrement acide et faites des semis successifs à partir des premières pluies d'automne. La croissance des racines est bien meilleure quand la température du sol est de 15°C minimum, aussi il faudra utiliser une protection contre le froid en cas de semis tardif. Eclaircissez la planche en fonction de la croissance des semis et utilisez les plantules arrachées en salades.
There must be a place for wild carrots in any natural Mediterranean garden but they feature little in the literature. Daucus is a host plant for swallowtail caterpillars. Flower-heads are heavy with small white flowers which often stand well above most plants. A wild carrot selection, Daucus carota 'Dara' has white through to dark purple petals and is very attractive especially as a cut flower.
Dans tout jardin naturel méditerranéen il devrait y avoir une place pour la carotte sauvage mais on en parle très peu dans la littérature. Daucus est une plante-hôte pour les chenilles du machaon. Les têtes florales comportant de nombreuses petites fleurs blanches surpassent la plupart des autres plantes. Daucus carota 'Dara' à pétales passant du blanc au pourpre foncé est très intéressante à cultiver surtout pour la fleur coupée.
Daucus is also the perfect flower to include in a semi-wild meadow.
Cette plante est aussi la fleur idéale à introduire dans une prairie mi-sauvage.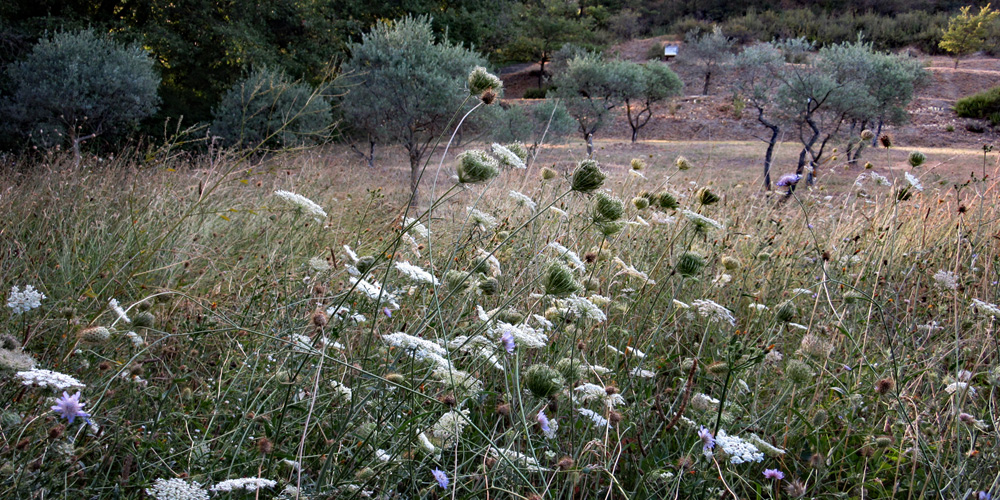 Carrots are finding a niche in the vegetable garden as a companion or beneficial plant. They are said to boost tomato production and may provide a microclimate for lettuce plants though the author remains sceptical and has yet to see any solid evidence to support these claims!
La carotte peut aussi servir de plante compagne au potager. On dit qu'elle augmente la production de tomates et favorise un microclimat aux plants de laitue bien que l'auteur reste sceptique et demande à voir les preuves de ces affirmations !
Text: David Bracey
Photos: David Bracey, Ian Davis, Christine Daniels
Traduction en français: Chantal Guiraud