Gardening / Jardinage
No room in the garden?  Grow vegetables in containers
Pas de place dans le jardin pour des légumes ?  Cultivez-les en conteneurs
Click on the images to enlarge them / Cliquez sur les images pour les agrandir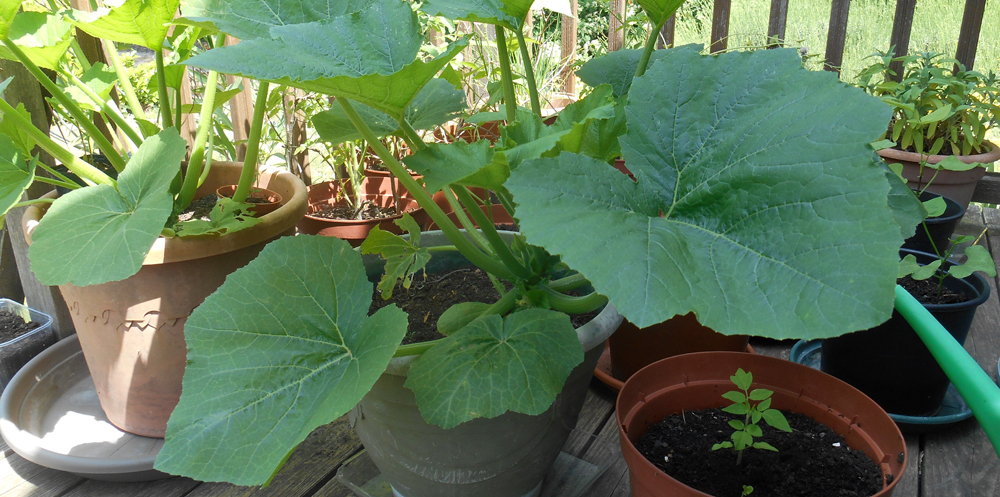 You've always wanted to grow vegetables but there's no space in your garden? Or you think a vegetable plot would be too much work? Here's the solution: container vegetables.
Vous avez toujours voulu cultiver des légumes mais il n'y a pas de place dans votre jardin ? Ou vous pensez qu'un potager représente trop de travail ? Voici la solution : des légumes en conteneur.
A surprising number of vegetables are perfectly comfortable in pots. Of course, here in the south of France, the climate imposes its own conditions. However, with proper planning, you can have your own fresh vegetables nearly all the year round.
De nombreux légumes sont parfaitement à l'aise dans des pots. Bien sûr, ici dans le sud de la France, le climat impose ses propres conditions. Mais avec une bonne planification, vous pouvez avoir vos propres légumes frais presque toute l'année.
First, you first need the space. It doesn't matter how small it is. A corner of a veranda or balcony can be home to a few pots of herbs or lettuce. If you have more space, the sky's the limit. Find a compromise between sun and shade. Too much shade and your plants will be thin and weak. Too much sun and they'll be frizzled in the summer. If possible, a space somewhere near the kitchen is ideal for watering and picking. Container growing has many advantages: you can limit pots to a number that's manageable for you, weeding and dealing with pests is easy and there's no back-breaking digging.
Tout d'abord, il faut trouver un peu d'espace. Peu importe qu'il soit petit. Un coin de véranda ou de balcon peut accueillir quelques pots d'herbes aromatiques ou de salade. Si vous avez plus d'espace, le ciel est la limite. Trouvez un compromis entre le soleil et l'ombre. Trop d'ombre et vos plantes seront étirées et faibles. Trop de soleil et elles seront cramées en été. Si possible, un endroit proche de la cuisine est idéal pour faciliter l'arrosage et la cueillette. La culture en conteneur présente de nombreux avantages : vous pouvez limiter le nombre de pots à un nombre gérable pour vous, il est facile de désherber et de lutter contre les parasites et il n'y a pas de bêchage épuisant.
Be waterwise
Do not use an automatic watering system. Hand watering is best as you can adapt the watering to each plant's individual needs. Water from below to avoid mildew and mosaic disease and use saved household water, which can be stored in watering cans till needed. See article: Beat the drought – re-use your household water.
Soyez écol'eau'gique
N'utilisez pas de système d'arrosage automatique. L'arrosage manuel est la meilleure solution car vous pouvez adapter l'arrosage aux besoins individuels de chaque plante. Arrosez par le bas afin d'éviter le mildiou et la maladie de la mosaïque, et réutilisez l'eau de votre ménage, qui peut être stockée dans des arrosoirs jusqu'à ce que vous en ayez besoin. Voir article : S'adapter à la sécheresse – réutilisez l'eau des ménages.
One thing to remember: you won't get industrial quantities of produce, with the possible exception of courgettes and tomatoes. But by staggering your planting, you can have several handfuls of fresh vegetables during most of the year (choice of variety is very important here – see below).
Une chose à retenir : vous n'obtiendrez pas des quantités industrielles de légumes, à l'exception peut-être des courgettes et des tomates. Mais en échelonnant vos plantations, vous pouvez avoir des poignées de légumes frais pendant presque toute l'année (le choix de la variété est très important ici – voir ci-dessous).
Choice of pot is also important. Standard advice is to use pots with a minimum size of 30 cm (inner diameter) and a capacity of 15 litres. Mine are a bit smaller, but each will take one tomato plant or one plant of dwarf French beans. Much larger pots are needed for courgettes (something like a small dustbin is ideal), while smaller pots and containers can house individual lettuce plants. When filling the pot with earth, put a layer of compost and pelleted fertilizer halfway up. Or you can simply take a bag of earth, cut a large hole in one side and plant directly into it (don't forget to pierce drainage holes on the other side). Each container will need a saucer (in emergencies, I use the plastic boxes in which we buy our croissants).
Le choix du pot est également important. Normalement on conseille d'utiliser des pots d'une taille minimale de 30 cm (diamètre intérieur) et d'une capacité de 15 litres. Les miens sont un peu plus petits, mais chacun peut contenir un plant de tomates ou un plant de haricots verts nains. Des pots beaucoup plus grands sont nécessaires pour les courgettes (une petite poubelle est idéale), tandis que des pots et des conteneurs plus petits peuvent accueillir des plants de laitue individuels. Lorsque vous remplissez le pot de terre, mettez une couche de compost et d'engrais en granulés à mi-hauteur. Vous pouvez aussi simplement prendre un sac de terre, faire un grand trou sur un côté et planter directement dedans (n'oubliez pas de percer des trous de drainage sur l'autre côté). Chaque récipient aura besoin d'une soucoupe (en cas d'urgence, j'utilise les boîtes en plastique dans lesquelles nous achetons nos croissants).
So what are you going to grow? If you don't fancy sowing seed, you can buy small plants from your local garden-centre in the spring, though the choice of variety is likely to be limited and you may not be able to buy plants that are suitable for pots. When buying seed, look for suitable varieties, (dwarf French beans, cherry tomatoes, courgettes that don't spread), plants with resistance to heat and disease and those that produce quickly.
Alors, qu'allez-vous cultiver ? Si vous n'avez pas envie de semer des graines, vous pouvez acheter de petites plantes dans votre jardinerie locale au printemps, mais le choix de variétés risque d'être limité et vous ne pourrez peut-être pas acheter de plantes adaptées aux pots. Lorsque vous achetez des graines, recherchez des variétés adaptées (haricots verts nains, tomates cerises, courgettes non-coureuses), des plantes résistantes à la chaleur et aux maladies et celles à récolte rapide.
Here are a few suggestions for easy growing.
Voici quelques suggestions de légumes faciles à cultiver en pot.
Culinary herbs There's no point planting thyme, rosemary or oregano, since these grow in nearly every Mediterranean garden. Plant herbs which need shelter and water: parsley, sage and chives can stay in their pots all year round, while dill, coriander and basil can be sown as summer crops.
Herbes culinaires Il est inutile de planter du thym, du romarin ou de l'origan, puisque ces plantes poussent dans presque tous les jardins méditerranéens. Plantez plutôt des herbes qui ont besoin d'un abri et d'un peu d'eau : le persil, la sauge et la ciboulette peuvent rester dans leur pot toute l'année, tandis que l'aneth, la coriandre et le basilic peuvent être semés en été.
Salad leaves With planning, you can have a pot of salad leaves available all year round. Sow seed early in spring and use heat-resistant varieties such as 'Red Salad Bowl' or 'Cressonette marocaine'. A cut-and-come-again variety is more useful in a pot than a lettuce which forms a heart. You can prick out the plants individually or leave them as mini salad leaves. Watch out for slugs, snails and caterpillars. In August/September, sow rocket, winter lettuce and oriental greens such as mizuna. Bring these under cover when the cold weather starts and they will give a small steady supply of leaves over the winter (and can be augmented by dandelion leaves from the garden).
Salades Avec un peu de planification, vous pouvez avoir des feuilles de salade disponible toute l'année. Semez les graines tôt au printemps et préférez des variétés résistantes à la chaleur telles que 'Red Salad Bowl' ou 'Cressonette marocaine'. Pour la cultivation en pot, une variété à couper est préférable à une variété qui forme un cœur. Vous pouvez repiquer les plantes individuellement ou les cultiver comme « mini-feuilles ». Attention aux limaces, escargots et chenilles. En août/septembre, semez la roquette, la laitue d'hiver et les légumes orientaux comme le mizuna. Mettez-les à l'abri quand il commence à faire froid et vous aurez un petit apport régulier de feuilles pendant tout l'hiver (qui peuvent être complétées par des feuilles de pissenlit du jardin)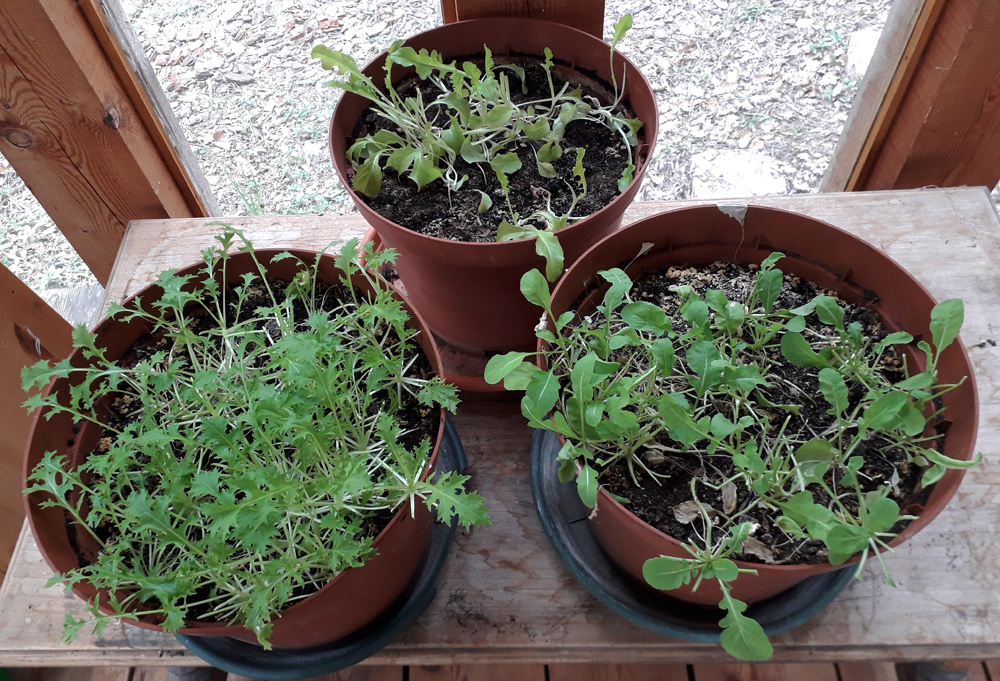 Tomatoes Use a cherry tomato variety such as 'Gardener's Delight' or 'Gloire de Versailles' (full-sized tomatoes can be a problem because they need staking). Sow seed in March, prick out the number of plants you want, let them grow to between 12 and 15 cm and then plant them outside. Shade the plants for a couple of days till they get used to the sun. Sowing two lots of seed at an interval of a month will prolong the crop. Tomatoes germinate readily. I often find self-sown tomatoes growing spontaneously, usually in the wrong place. As summer goes on, give liquid fertilizer from time to time when you water.
Tomates Semez une variété de tomates cerises comme 'Gardener's Delight' ou 'Gloire de Versailles' (les tomates de grande taille peuvent poser problème car elles nécessitent un tuteurage). Semez les graines en mars, repiquez le nombre de plants que vous voulez, laissez-les pousser jusqu'à 12 à 15 cm et plantez-les ensuite dehors. Mettez-les à l'ombre pendant quelques jours, le temps qu'ils s'habituent au soleil. En semant deux lots de graines à un mois d'intervalle, vous prolongerez la récolte. Les tomates germent facilement. Je trouve souvent des tomates qui se sont ressemées spontanément, généralement au mauvais endroit. Au fur et à mesure que l'été avance, donnez de l'engrais liquide de temps en temps lorsque vous arrosez.
Courgettes These take up a lot of space, so use a variety that doesn't run. My favourite is 'Verte de Milan' (also known as 'Black Beauty'). Start the seed off in small pots and follow the same procedure as for tomatoes. Water from below to avoid mosaic disease. Give liquid fertilizer as summer goes on. Don't forget you can eat the flowers as well as the fruit (absolutely delicious fried).
Courgettes Elles prennent beaucoup de place, et il est préférable de semer une variété non coureuse, comme 'Verte de Milan' (également connue sous le nom de 'Black Beauty'). Semez les graines dans de petits pots et suivez la même procédure que pour les tomates. Arrosez par le bas afin d'éviter la maladie de la mosaïque. Apportez de l'engrais liquide à mesure que l'été avance. N'oubliez pas que vous pouvez manger les fleurs ainsi que les fruits (elles sont absolument délicieuses frites).
Dwarf French beans Start off in small pots in early spring but sow directly outside from mid-April. I'm currently using a variety called 'La Victoire' which is sturdy and grows quickly. You can keep sowing till June to get a steady supply. Water from the bottom to avoid mosaic disease.
Haricots verts nains Semez dans de petits pots au début du printemps, mais semez directement à l'extérieur à partir de la mi-avril. J'utilise actuellement une variété appelée 'La Victoire' qui est robuste et pousse rapidement. Vous pouvez continuer à semer jusqu'en juin pour avoir un approvisionnement régulier. Arrosez par le bas pour éviter la maladie de la mosaïque.
Carrots If you have the space, it's worth trying carrots simply because the taste of a fresh carrot is out of this world. But select a short variety such as 'De Luc' and sow thinly.
Carottes  Si vous avez de la place, cela vaut la peine d'essayer les carottes, simplement parce que le goût d'une carotte fraîche est extraordinaire.  Mais choisissez une variété courte, comme 'De Luc', et semez finement.
Other suggestions
Autres suggestions
Winter radish Sow in August/September to get large roots which are a boon in winter salads, either sliced or grated. They can stay outside all winter. I use an excellent non-commercial heritage variety called 'Pasque' which I get from the UK (Garden Organic sometimes feature it in their heritage seed catalogue), but other varieties of winter radish are available from commercial seed companies.
Radis d'hiver Semer en août/septembre pour obtenir de grosses racines qui seront un atout pour les salades d'hiver, en tranches ou râpées. Les radis peuvent rester dehors tout l'hiver. J'utilise une excellente variété ancienne non commercialisée appelée 'Pasque' que je me procure au Royaume-Uni (la société Garden Organic l'offre parfois dans son catalogue de semences anciennes), mais d'autres variétés de radis d'hiver sont disponibles dans le commerce.
Tetragon (New Zealand spinach) Nothing like regular spinach, this is a fairly heat-resistant plant which produces ivy-shaped leaves for use in salads or cooked like spinach. Soak commercial seed for 24 hours before planting. Fresh seed germinates readily.
Tétragone ou épinard de Nouvelle-Zélande Rien à voir avec les épinards ordinaires, c'est une plante assez résistante à la chaleur qui produit des feuilles en forme de lierre, à utiliser en salade ou à cuisiner comme des épinards. Faites tremper les graines commerciales pendant 24 heures avant de les planter. Les graines fraîches se ressèment toutes seules.
Growing your own vegetables is deeply satisfying. Have fun!
Cultiver ses propres légumes est un grand plaisir. Amusez-vous bien !
---
Text and photos : Michèle Bailey