Gardening / Jardinage
Optimising a small outdoor space / Optimiser un petit espace extérieur
Click on an image to enlarge it / Cliquez sur une image pour l'agrandir
Think about design before getting to work / La conception avant la réalisation
When we are eager to enjoy our new outdoor space as soon as possible and ideas are starting to take shape in our mind, it's tempting to jump right into the garden and start working! We often forget that we need to start with a design, a step that needs to be done properly in order to combine our needs and wishes with a coherent and realistic vision of the space. Taking the time needed for the design step is even more important when there is just a small space available and we want it to be functional, beautiful and enjoyable to live in.
Lorsque l'on souhaite profiter le plus vite possible de son extérieur ou que des idées d'aménagement commencent à germer il est tentant de se lancer tête baissée dans des travaux ! Et pourtant pour concevoir un projet cohérent, réaliste et donc réalisable, il est nécessaire de commencer son projet sur le papier: c'est la phase de conception. Ce temps de réflexion prend encore plus son sens lorsque l'espace disponible est restreint et que l'on souhaite créer un lieu agréable à vivre, à la fois fonctionnel et esthétique.
1. Finding inspiration / Trouver des inspirations
Start your project by collecting pictures and creating a database. You can find images online by using keywords (try Google Images, Houzz, Gardenia.net, Pinterest…), in landscape architecture magazines (eg. Garden Design, Extérieur Design, Les plus beaux jardins, L'art des jardins et du paysage) and in garden design books. At this point, collect any pictures that you like, even though some may be unsuitable for your space or your budget. You can focus either on a specific garden style (eg. Japanese, Italian, French, English, zen, SW American), or just pick images you like, an exercise which will help you discover your personal style and thus create a unique outdoor space.
Commencez par constituer une base d'images. Vous pourrez les trouver sur internet à l'aide de mots-clés (ex. Google image, Houzz, Gardenia.net, Pinterest…), sur des magazines spécialisés en architecture paysagère (ex. Extérieur design, Les plus beaux jardins, L'art des jardins et du paysage…) ou des livres spécialisés. Lors de cette étape, collectez toutes les images que vous aimez même si elles représentent des aménagements qui ne seront pas directement applicables à votre espace ou à votre budget. Il est important d'avoir l'esprit ouvert pour stimuler son processus créatif ! Vous pouvez soit vous focaliser sur un style bien défini (ex. le jardin japonais, italien, français, anglais, zen, sud-ouest américain…), soit choisir au hasard des images que vous aimez (cette méthode est idéale pour découvrir quels sont vos goûts et créer un espace personnalisé).
The images you have collected should then be analysed from an architectural viewpoint. Review masses and spaces, colours, materials, lines and perspectives in order to identify themes. Note that plants, furniture and decorative elements should be selected in the second phase as they ought to relate to the style which emerges from the initial design phase.
L'analyse des images se fait d'un point de vue architectural : les volumes, les couleurs, les matières, les perspectives, les masses et les lignes sont décryptées pour sélectionner les caractéristiques récurrentes. Il est important de noter que le choix des végétaux, du mobilier ou des éléments décoratifs intervient plus tard dans la conception du projet, car ils sont fonctions des caractéristiques stylistiques retenues, et non l'inverse.
If you have chosen an eclectic selection of images, try to identify what the pictures have in common. What are the dominant materials and colours? Are the plants in groups or isolated? Have you chosen mainly curved paths or straight ones? If you have focused on a specific style, research the key points for success in this genre by using specialist books. You can then select plants which are adapted to your soil and climate to achieve your chosen look.
Si vous avez fait des choix qui semblent aux premiers abords éclectiques identifiez quels sont leurs points communs : Quels sont les couleurs et matériaux dominants ? Les végétaux sont-ils regroupés en masses ou isolés les uns des autres ? Les cheminements et les éléments en dur tracent-ils des lignes droites ou courbes ? Si vous vous êtes focalisé sur un style bien défini, identifiez les codes du genre en vous aidant de livres spécialisés sur le sujet. Vous pourrez ensuite adapter la palette végétale à la nature de votre sol et au climat en fonction des caractéristiques stylistiques retenues.
For example, the Japanese maple (Acer palmatum) is a key feature in Japanese gardens. It flourishes in cool acidic soils and has deciduous foliage which becomes red-orange in autumn. If your soil tends to be chalky and dry you can substitute a Montpellier maple (Acer monspessulanum) or a terebinth (Pistacia terebinthus), both of which are deciduous and have wonderful autumn colour. With appropriate pruning, you can even shape them like a Japanese maple.
Exemple : L'érable du Japon (Acer palmatum) est un élément clé du jardin japonais, il pousse dans les sols acides et frais, et son feuillage est caduc avec une couleur automnale rouge-orangé. Si votre sol est plutôt calcaire et sec, vous pouvez le remplacer par un érable de Montpellier (Acer monspessulanum) ou un pistachier (Pistacia terebinthus), leurs feuillages sont aussi caduques et de couleurs automnales chaudes. Avec une taille consciencieuse vous pourrez même reproduire la charpente de l'érable du Japon.
2. Making an inventory / Faire un état des lieux
It is now time to write down the answers to a few key questions. Some are specific to you and those who live with you, and others to your space and its particular characteristics. The more thought you give to the identification of the potential and limits of your space, the more accomplished and coherent the finished results will be.
Il est maintenant temps de poser sur un bloc note les réponses à un certain nombre de questions clés. Certaines sont inhérentes à vous et aux utilisateurs du lieu, et d'autres concernent uniquement votre espace et ses caractéristiques propres. Plus vous aurez identifié vos limites, votre potentiel et ceux de votre environnement, plus votre aménagement sera abouti et cohérent!
You:

What do you want to achieve? What sort of atmosphere do you want to create? What will the space be used for? Maybe you want to be surrounded by greenery, or create an edible garden, or an evolving space full of colours and shapes? Or an area to entertain friends? Or a play area for children?
How much time do you have for garden maintenance?
Will you be in residence during the driest months?
What is your budget?
Do you have the required skills to bring your project to fruition? You may need to do some training or call in professionals for some jobs.
Vous :

Quels sont vos envies et vos besoins ? Concerne l'atmosphère recherchée, vos goûts et l'utilisation du lieu. Exemples : Envie d'une bulle de verdure, d'un espace évolutif et coloré… Besoin d'un espace convivial pour recevoir des amis, d'un espace de jeux pour les enfants, d'un lieu de stockage…
De combien de temps disposez-vous pour l'entretien?
Serez-vous présent les mois les plus secs ?
Quel est votre budget ?
Avez-vous les compétences nécessaires à la réalisation de votre projet ? Peut-être faudra-t-il vous former au préalable ou faire appel à quelqu'un pour certaines tâches.
Your environment:

What are the main existing features (hard landscaping, mature trees, special plants)? Note that it is often easier to work with existing elements rather than to clear everything out. This may save you time, energy and money. For example, rather than removing an existing concrete slab, you can hide it with wood decking, or an outdoor carpet.

Are there any accessibility problems? This may influence the kinds of heavy equipment that can be used.
Is there a power outlet and water supply nearby? Will they be adequate for the needs of the construction work and later for irrigation and for garden lighting?

What is the orientation and exposure to sun? This will influence the use of space and plant selection.
What are the climatic conditions? This also will influence plant selection and may require the inclusion of hard landscaping to ameliorate problems such as excessive wind or to direct rain water away from the area.
What kind of soil do have? This will influence plant selection.
Votre environnement :

Quels sont les éléments principaux existants (structures en dur, végétaux adultes ou plantes remarquables) ? Il est souvent plus facile de composer avec l'existant que de vouloir s'en débarrasser. Vous économiserez du temps, de l'énergie et de l'argent. Exemples : Plutôt que de détruire une dalle en béton, masquez-la avec une terrasse en bois, des caillebotis ou un tapis d'extérieur…
Quelle est l'accessibilité ? Influence la taille et le type d'engins qui pourra entrer dans l'espace.
Y a-t-il des points d'eau et des sorties d'électricité ? Correspond aux moyens à disposition pour la mise en œuvre du chantier, puis pour l'éclairage ou encore l'arrosage.
Quelle est l'orientation/l'exposition solaire ? Influence l'utilisation des espaces et la gamme végétale.
Quelles sont les conditions climatiques ? Influence la gamme végétale et la mise en œuvre de constructions spécifiques pour contrecarrer ces effets : drainer ou diriger les écoulements d'eau, briser le vent…
Quelle est la nature du sol ? Influence la gamme végétale.
Do not be discouraged if you have listed lots of problems. Better to identify them at the beginning and some may turn into advantages.
Ne vous découragez pas face aux contraintes que vous aurez relevé, mieux vous les aurez identifiés mieux vous pourrez les surmonter voir même les transformer en atouts !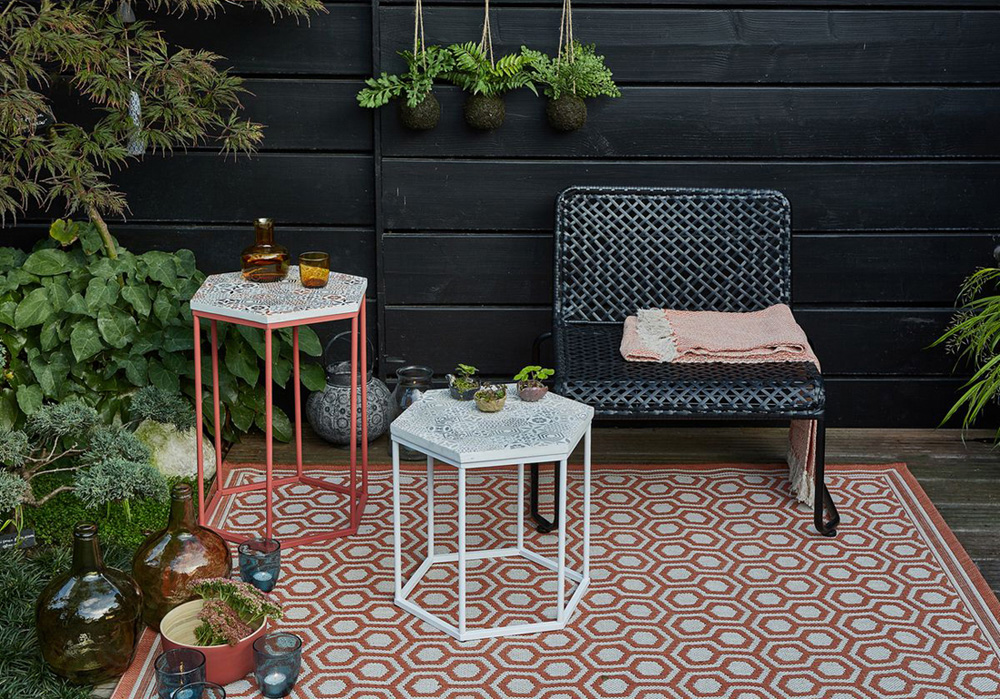 3. Drawing a plan / Faire un plan
If you don't already have a garden plan, you can search for your plot, free of charge, on the cadastre website. This site provides simple tools to precisely measure lengths and surface areas.
Si vous n'avez pas de plan à disposition, cherchez votre parcelle gratuitement ici. Ce site met aussi à disposition des outils de mesures de longueur et de surface précis.
Start by drawing the basic shape of your plot. Mark edges, paths and walking routes, openings (doors, windows, gates), the orientation of the plot and existing structural elements such as trees, fences, walls and ponds. Then place tracing paper over this base and add 'bubbles' to represent the elements you wish to introduce to your garden. This will allow you to try out different combinations of the various elements (decking, barbecue, playground for children, dog kennel etc).
Dans un premier temps faites un schéma simple qui vous servira de base de travail : dessinez les contours de votre parcelle, les voies de circulation, les ouvertures (portes, fenêtres, portails…), l'orientation ainsi que les éléments structurants existants (arbres, murs, clôtures…). Sur du papier calque représentez sous forme de 'bulle' les différents éléments que vous souhaitez positionner (ex. le salon de jardin, le barbecue, la niche du chien, le lieu de stockage…) pour tester plusieurs agencements.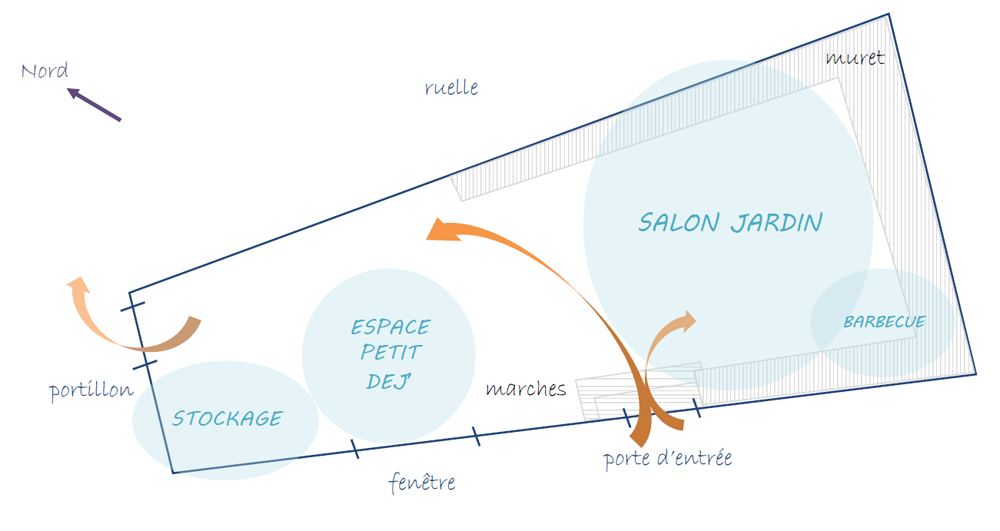 Once the layout is settled, produce a scale drawing using the length measuring tool on the cadastre website. Remember to photocopy or scan the plan before going further. Next, position all the elements precisely on the plan. This step is useful when calculating the quantities of hard landscaping materials and plants your project will require, and for selecting the correct size of furniture and decorative elements to fit the space. It may be necessary to create a planting plan, or to produce more detailed drawings for complex features. A planting plan is used to quantify the number and types of plants required and to position them correctly.
Dans un second temps, et à l'aide des mesures de la parcelle, réalisez un plan à l'échelle. N'oubliez pas de photocopier ou scanner ce plan avant d'aller plus loin. Puis positionnez précisément tous les éléments de l'agencement retenu. Cette étape est nécessaire pour calculer les bonnes quantités de matériaux et végétaux ou encore choisir du mobilier et des éléments décoratifs aux bonnes dimensions. Il peut être nécessaire de réaliser distinctement un plan de plantation ou des détails supplémentaires pour les ouvrages complexes. Le plan de plantation sert à positionner sur le plan à l'échelle les végétaux et à les agencer ensemble dans l'espace pour les quantifier.
You are now ready to start work!
Vous êtes maintenant prêts pour commencer les travaux !
Specific advice for small areas / Conseils d'agencement spécifiques aux petits espaces
If your space is small, the design should take into account some of the following architectural ideas.
Si vous avez un espace de taille modeste, il est nécessaire de prendre en compte lors de la phase de conception certaines notions architecturales illustrées ci-dessous.
For elements with a strong visual impact such as trees, opt for those with the thinnest trunks, the lightest foliage and the smallest adult size. Similarly, choose furniture which is slim and light.
Pour les éléments à fort impact visuel comme les arbres, privilégiez ceux dont le tronc est fin et élancé, le feuillage aéré, et dont la taille adulte sera modérée. De même, le mobilier léger et fin est plus adapté.
Liberate ground space by using vertical space for features, for example, putting plants in hanging baskets, on shelves, stairs and trellis. Make your plants climb.
Libérez de la place au sol en aménageant à la verticale : en suspendant des pots ou jardinières, en créant des étagères, des structures en escaliers, en utilisant des treillages pour faire grimper des plantes en hauteur.
Use modular furniture which has more than one function and adjustable dimensions or think of alternative uses for a same object. Let the indoor furniture used in urban studios act as inspiration. Custom-made constructions are a good way to make the most of small spaces, but they require either handyman skills or the budget to call in a professional. In the photo, the wooden benches are custom-made, and include a plant container and a storage box under the seat.
Utilisez du mobilier modulable ayant plusieurs fonctions, des dimensions ajustables ou imaginez une deuxième fonction à certains objets. Vous pouvez vous inspirer du mobilier ingénieux utilisé pour l'intérieur des studios urbains. Les constructions sur-mesure sont idéales pour utiliser le potentiel maximum d'un petit espace mais nécessitent d'avoir l'âme d'un bricoleur ou le budget pour faire appel à un prestataire. Ici, les bancs en bois sont construits sur-mesure et intègrent des jardinières ainsi qu'un coffre de rangement sous l'assise.
Add a mirror, which will lengthen the visual field and bring light to dark places. Be sure to position mirrors carefully to ensure they do not become dazzling at certain times of day.
Ajoutez un miroir : il prolonge le champ visuel et apporte de la lumière aux coins sombres. Attention à bien le positionner pour ne pas être ébloui à certaine heures de la journée !
Compartmentalise the space, and provide structure through elements of high visual impact, for example, a broken or curved path, fencing, trellised panels, multiple level terraces and repeated vertical or ground features. You can use plants, hard landscaping materials or decorative elements to create these effects. Not being able to see the entire space in one quick look gives the illusion that the space is bigger than it really is.
Compartimentez l'espace en le structurant avec des éléments à fort impact visuel : des cheminements discontinus, des brises-vues, des terrasses de plusieurs niveaux, ou encore des répétitions d'éléments au sol ou à la verticale. Utilisez aussi bien les végétaux que les matériaux ou les éléments décoratifs pour créer ces effets. Le fait de ne pas voir d'un seul coup d'œil un espace dans son ensemble donne l'illusion qu'il est plus grand.
Long, receding perspectives do not work in small gardens. Create broken or curved paths rather than straight ones.
Les longues perspectives fuyantes ne sont pas adaptées aux petits espaces. Créez des chemins en courbes ou déstructurés plutôt qu'en ligne droite.
Further reading / Pour aller plus loin
GOODNICK Billy, Yards, St. Lynn's Press, 2013. (pas de traduction française)
KINGSBURY Noel, Petits jardins actuels, Ulmer, 2017.
MALLET Robert, L'optique des jardins, Ulmer, 2009.
NESSMANN Pierre, PERDEREAU Brigitte & Philippe, Les allées, Aubanel, 2006.
REID Grant W., Dessin d'architecture paysagère, Eyrolles, 2006.
YOUNG Chris, Un paysagiste pour mon jardin, Marabout, 2009.
Text: Nina Guichard
Photos: © NR Landscaping except where noted