Gardening / Jardinage
Soil analysis / Atelier de types de sols, par David Bracey
Click on the images to enlarge them / Cliquez sur les images pour les agrandir
Soil is a very precious commodity and must be protected; without soil we would be unable to produce crops. It is a complex material containing organic matter, silt, clay and sand in various proportions which gives soil its characteristic texture. For example, a soil with high amounts of sand is easy to work, warms up early and may require irrigation to grow crops. Clay soils are cold, heavy, fertile and difficult to work. Silty soils are similar and may dry out in hot weather to become very hard.
Le sol est une denrée très précieuse et doit être protégé : sans terre nous serions incapables d'obtenir des récoltes. C'est un matériau complexe contenant des matières organiques, du limon, de l'argile et du sable en proportions variables, ce qui lui confère ainsi sa texture caractéristique. Par exemple, un sol contenant beaucoup de sable sera facile à travailler, se réchauffera rapidement et devra être arrosé pour la production de récoltes. Les sols argileux sont froids, lourds, fertiles mais difficiles à travailler. Les sols limoneux sont similaires et sujets à dessèchement par temps chaud en devenant très durs.
Mechanical analysis of soil will help you to identify what type of soil you have in your garden.
To collect a soil sample:
Start in one corner and zigzag across the garden taking samples as you go. Use a small trowel, or something similar. Dig down to about 15cm, lift and place the soil sample in a clean bucket or container. Remove weeds, grasses, thatch etc. The object is to collect a soil sample which is representative of your garden. Soil is generally quite homogenous over a small area. Avoid sampling in those areas which are not representative, for example close to paths, around buildings, compost piles. Normally ten samples would be quite sufficient in an average sized garden. Mix the samples together thoroughly and from this mixture, take about 500g of soil and place in a container.
Échantillonnage des sols :
Commencez par un coin et, tout en zigzaguant, prélevez les échantillons. Utilisez une petite pelle ou quelque chose de similaire. Creusez à 15 cm de profondeur, et placez la terre prélevée dans un seau propre. Enlevez les mauvaises herbes, et autres débris végétaux, etc. Le principe est de recueillir un échantillon de votre sol prélevé dans votre jardin. En général, le sol est assez homogène au sein d'une petite zone. Évitez de prélever dans des endroits non représentatifs, comme par exemple, près des allées, autour des bâtiments ou sur le tas de compost. En général, 10 échantillonnages devraient suffire pour un jardin de taille moyenne. Bien mélangez ensemble les échantillons. Prélevez environ 500 g de terre de ce mélange et placez-le dans une boîte.
Analysis:
Mix some of this sample with water in a jam jar, screw on the top, shake well until all the soil is in suspension then set to one side to allow the soil to settle. The first material to settle will be the heaviest and includes small stones and sand. The next layer is silt followed by clay material. It may take overnight for all the fines to settle out and for the water to become clear. Some organic matter will be left floating on the surface of the water.
Analyse :
Mélangez un peu de cet échantillon avec de l'eau dans un pot en verre (pot de confiture), fermez le couvercle, secouez bien jusqu'à ce que la terre soit en suspension puis laissez reposer afin que votre mélange se stabilise. Les premières choses à tomber au fond seront les plus lourdes : les petites pierres et le sable. La couche suivante sera le limon suivi de l'argile. Le processus afin d'obtenir une eau claire pourra prendre toute une nuit. Un peu de matières organiques flotteront à la surface de l'eau.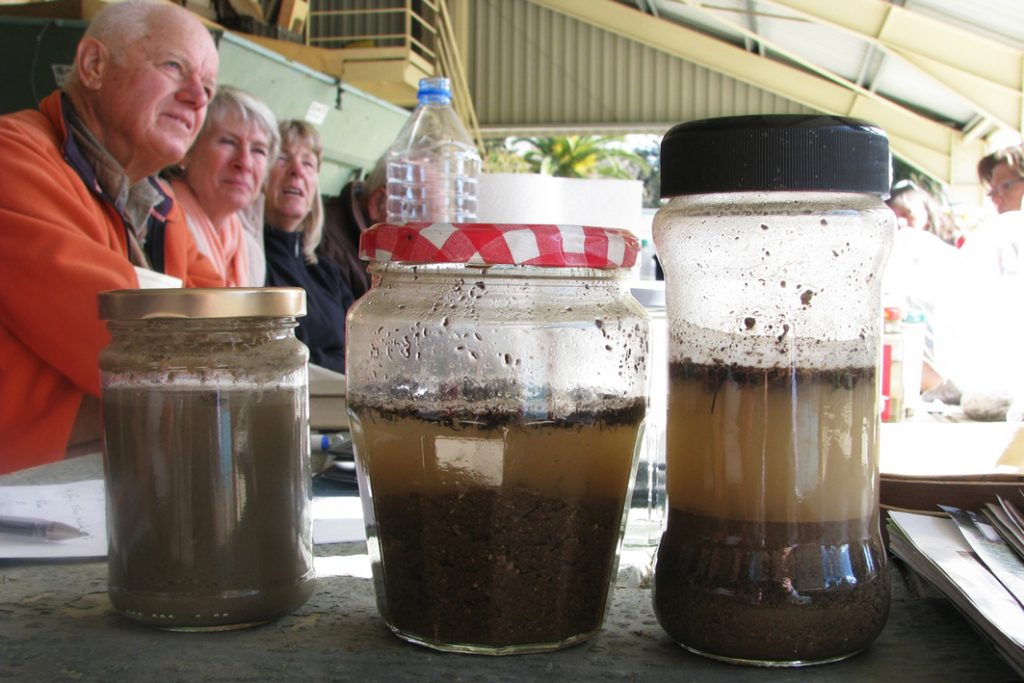 Measure the total depth of your deposit in cm. Measure the depth of the sand, clay and silt layers. The sand depth divided by the total depth multiplied by 100 will give you the percent of sand in your soil. Repeat for clay and silt.
Mesurez la couche totale du dépôt en centimètres. Mesurez les couches de sable, d'argile et de limon. La profondeur de sable divisée par la profondeur totale et multipliée par cent vous donnera le pourcentage de sable de votre sol. Faites de même pour l'argile et le limon.
The triangular chart from the USDA is another method to determine the texture of your soil. Simply place your quantitative analysis in the appropriate box in the triangle by reading off the percentage of each clay, silt and sand.
Le tableau triangulaire de l'USDA est une autre méthode de détermination de la texture des sols. Placez tout simplement votre analyse quantitative dans les cases appropriées du triangle en lisant le pourcentage pour l'argile, le limon et le sable.
Take a pinch of soil between thumb and finger, add some water and rub together. A sandy soil will sound gritty, a clay soil will roll into sausages and a silty soil will be silky and smooth to the touch.
Prenez un peu de terre entre vos doigts, ajoutez un peu d'eau et frottez. Un sol sablonneux vous semblera graveleux, un sol argileux se transformera en saucisses et un sol limoneux deviendra soyeux et doux au toucher.
Sand grains are typically 2.00 – 0.02/0.05mmin size. Silt is 0.02-0.05 – 0.002 mm and clay particles are typically below 0.002 mm ie most soil particles are microscopic.
Les grains de sable mesurent entre 2 et 0,02-0,05 millimètres. Les particules de limon mesurent entre 0,02-0,05 et 0,002 mm et celles d'argile sont en dessous de 0,002 mm. La plupart des particules du sol sont donc microscopiques.
The soil's pH, or acidity /alkalinity may be measured using a kit bought in your local garden centre. An acid soil has a pH below 7 and an alkaline soil above 7.
Le pH du sol, c'est-à-dire l'acidité ou l'alcalinité peut être mesuré en utilisant un kit acheté en jardinerie. Un sol acide a un pH en dessous de 7 et un sol alcalin au-dessus de 7.
Further reading: N.C.Brady & R. Weil "The Nature and Properties of Soils" 14th edition
This work, first published in 1928 by Lyon, Buckman & Brady, exists in many editions. Any will do.
Text: David Bracey
Photographs: Catriona Mclean
Translation of Guide to Soil Identification: Sophie Tomlinson