General Description: Nous avons acquis un assez grand terrain comprenant un vallon avec des chênes, il y a 25 ans. Le jardin d'environ 2000 m2 a été planté sur un terrain dégagé pour la construction d'une maison de vacances familiale. Il est découpé en carrés séparés par des dallages afin d'en faciliter l'entretien.
Le jardin a été conçu avec le temps pour s'intégrer dans le paysage. En premier, nous avons planté des arbres avec une réussite inégale : mûrier-platane, cyprès, cèdre de l'Atlas, arbres de judée, sophoras, oliviers. Puis la plantation a été organisée sur la pente : rocaille et vivaces au Nord à mi ombre, pergola à l'Ouest abritant les repas, terrasse au Sud et plantes couvre-sol à l'Est. Une petite cuisine d'été a été installée. Une haie d'éléagnus et pyracanthe plantée en 2015-17, en place de genêts en fin de course, nous sépare d'une petite route.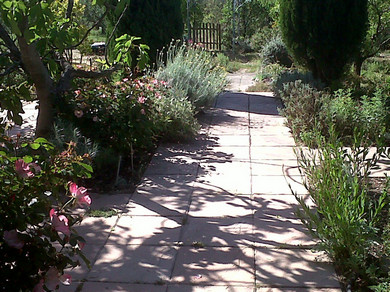 Soil and climate: Terre calcaire, lourde et argileuse. Eté chaud et sec, hiver froid pouvant descendre jusqu'à -10°C. Quelques jours de mistral fort au printemps. Pas de forage possible, donc arrosage avec l'eau de la ville. Aucune pelouse. Arrosage par tuyaux poreux quelques minutes programmé la nuit. Aucune plantation n'a survécu sans être arrosée régulièrement le premier été.
Plants and projects: Simplifier l'entretien en remplaçant les plantes déficientes par des plus résistantes à la sécheresse : Teucrium fructicans, cerastostigmas rampants et arbustes, erigerons à mi ombre, achillées, abélias, helichrysums. Déplacement d'iris au soleil.

Des talus expérimentaux de rocailles dénommés nouveaux territoires sont en plantation au sud.
Visits: Les visiteurs sont bienvenus. Nous avons visité trois ou quatre jardins de MGF avec le plus grand plaisir et espérons des visites en échange.
We speak French, English and Spanish.
Visites en mai, juin, septembre, octobre. Merci de nous envoyer un mail ou téléphone : 06 74 41 98 38
Email: Arlette & Alain Vidart
Read more at MGF Past Activities September 2018