Plant lists / Listes de plantes
Roses
Plant lists / Listes de plantes
Grasses
Plant lists / Listes de plantes
Plants which survived well in the heatwaves of 2003 and 2019
Plantes résistantes aux canicules de 2003 et 2019
In June 2019, a national record temperature of 46.1°C was measured in Gallargues-le-Montueux in the Gard. The heatwave was experienced for several weeks in June and July across most areas of Mediterranean France and when it was over, members of Hortus compiled a list of plants which had survived well. This list was combined with a similar one compiled by MGS members in France after the heatwave of 2003 to produce this illustrated version.
En juin 2019, une température de 46,1°C était mesurée à Gallargues-le-Montueux dans le Gard, constituant un nouveau record national. La canicule, qui a duré plusieurs semaines de juin et juillet, couvrait la plupart de la France méditerranéenne. Une fois la canicule terminée, les membres de Hortus ont rédigé une liste des plantes qui ont bien résisté à ses effets. En 2003, les membres de MGS France ont créé une liste similaire à celle d'Hortus après la canicule de cette année. La liste illustrée ci-dessous est une combinaison de ces deux listes antérieures.
Plant lists / Listes de plantes
Flowering Trees and Conifers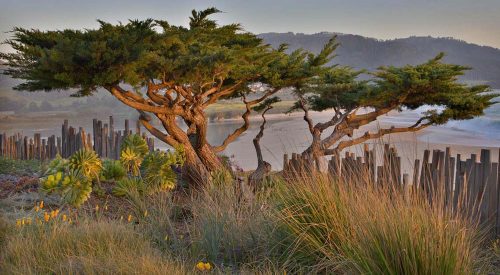 Cupressus macrocarpa
Monterey cypress, many cultivars. Height 15m.
Image: Bernard Trainor and associates
Pinus pinaster
Maritime pine, native to the Mediterranean region.
Height 20-30m.